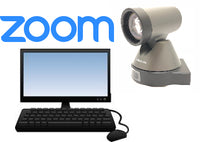 Zoom Room Conferencing Kit with High Definition USB PTZ Camera and Speakerphone
This camera is used within our Association for meetings and classes that are transmitted via Zoom. The camera has become a vital resource and has been working exceptionally well for us.
-P. Beckett, June 2020
We purchased this camera to as a primary camera for our Zoom conference room. We use Zoomroom software and a small ASUS media server computer on the back of one of two large monitors. The motion of the camera is great. The picture is superb. It needs a computer fast enough to process its full resolution for quality live streaming or conferencing. The zoom has two speeds which are very useful. We really appreciate the quality of the device and its performance.
-K. Parker, June 2018
Outfit your Zoom conference room with our GOHD20U high definition USB camera and Yamaha audio solution for a collaborative, easy-to-use, and modern meeting space. We offer a solution for every room size so you can have one-click video meetings and content sharing in any room.
The GO ELECTRONIC GOHD20U is our recommended camera for Zoom Room conferencing software. With it's plug-and-play interface via a USB port, you simply connect the GOHD20U camera to a laptop or desktop computer and Zoom will recognize the GOHD20U as your Zoom conferencing camera. The GOHD20U offers a 72.5 degree wide angle lens with 12x optical zoom. The GOHD20U Zoom Room conferencing camera can stand alone on a tabletop or any flat surface. For your convenience, we also offer an optional wall mount in this package.
This hardware kit for Zoom also includes an audio component. You select the Yamaha speakerphone that best meets your room requirements:
YVC-200 for up to 4 people
YVC-330 for up to 6 people
YVC-1000 for 8 or more people (with daisy-chain capabilities)
FLX UC 500 for 8-10 people
STANDARD ZOOM ROOM KIT CONTENTS:
One (1) GO ELECTRONIC GOHD20U high definition USB 3.0 pan-tilt-zoom camera
One (1) 5 FT USB cable (included with camera)
One (1) YAMAHA YVC-200 portable USB speakerphone (available in black or white)
**Please note: Zoom software is not included in this package. Visit
https://zoom.us/pricing
for more info on Zoom plans and pricing.
PACKAGE CONTENTS:
ONE (1) GOHD20U USB 3.0 HD PTZ Camera
ONE (1) USB 2.0 A/B cable to connect GOHD20U to computer:
5 ft USB Cable (included with camera)

AUDIO COMPONENT (choose one):
One (1) YAMAHA YVC-200 Portable USB Speakerphone. FOR UP TO 4 PEOPLE
One (1) YAMAHA YVC-330 USB & Bluetooth Portable Conference Phone. FOR UP TO 6 PEOPLE
One (1) YAMAHA YVC-1000 Unified Communications Microphone and Speaker System. FOR 8 OR MORE PEOPLE (WITH DAISY-CHAIN CAPABILITY)
One (1) REVOLABS FLX UC 500 USB Conference Phone. FOR 8-10 PEOPLE
OPTIONAL MOUNTS:
One (1) MT20-B Wall Mount (in black)