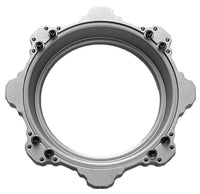 HIVE LIGHTING WPP - 8SR Wasp Eight Point Speed Ring
6 1/2 inch (168mm) spun aluminum speed ring manufactured by Chimera for Hive Lighting's Wasp and Bee. Designed to support any 8 point, octagonal soft box from any manufacturer, including diffusing light banks designed for photo or film. This heavy duty, all metal, ring was designed to withstand the rigors of set, but weighs only 1 lb., allows for full rotation while mounted and provides 16 threaded 8-32 mounting holes on the face. The 8 point speed ring supports a variety of octagonal light bank diffusion, deep or shallow, including collapsable beauty dishes and small, medium and large "octa" soft boxes.

1 year limited warranty.