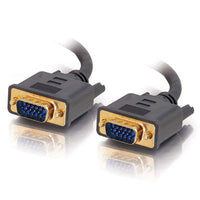 CABLES TO GO 28245 25ft Flexima™ HD15 UXGA M/M Monitor Cable
The Flexima UXGA cable delivers high performance AND flexibility. This ultra-thin cable is highly flexible to make installation in even the tightest areas a breeze. Unlike cheap VGA cables, the Flexima cable will not coil or snag during installation. And, the low profile connector helps you install this cable in places other connectors won't allow. Quality is also proven in the performance of these cables. Featuring ferrites to protect against EMI/RFI interference, double-shielded twisted pairs, and triple-shielded coax, this monitor cable delivers the signal without ghosting or distortion.
Use it for video presentations, home theater and HDTV applications, classroom environments, POS devices, and server rooms. Or simply organize your work area for maximum comfort and efficiency. Will accommodate cable runs up to 100 feet without a booster (in most cases). CL3-rated for in-wall installation.
Please Note:UXGA provides a screen resolution of 1600 x 1200 pixels. Not sure what resolution you need? See our
VGA resolution guide.
Connector 1:
HD15 Male
Connector 2:
HD15 Male
Please Note:
All 15 pins in this cable assembly are loaded.