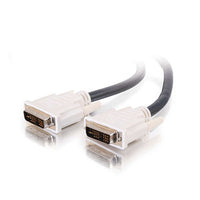 CABLES TO GO 29526 5m DVI-I M/M Single Link Digital/Analog Video Cable (16.4ft)
This precision-engineered cable is fully compliant with the DVI standard defined by DDWG (Digital Display Working Group). The DVI-I single link configuration provides enough bandwidth for resolutions up to 1600 x 1200 pixels and allows high speed transmission up to 4.95 Gbps. Three analog 30 AWG coaxial lines enable high speed analog transmission.

Tri-shielded undermold and braid shield protects against unwanted EMI/RFI interference. Each coax line is individually wrapped in foam-polyolefin insulation and overwrapped with a braided tinned copper shield. 28 AWG copper conductors are individually insulated in hard-density polypropylene to minimize crosstalk, and ensure high-speed, error-free transmission. Gold-plated contacts provide full conductivity with no data loss. PC and Mac compatible cable supports hot-plugging of DVI display devices. PC-99 color-coded: white.

Connector 1: DVI-I 23-pin Male
Connector 2: DVI-I 23-pin Male

Please Note: The DVI-I plug connector can only be inserted into a DVI-I interface.