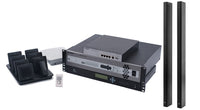 YAMAHA YAI-1 USB Audio System for Conference Room (White Speakers)
Bring superior sound to your large conference room or boardroom with the YAI-1 Conference Ensemble, a professional USB audio solution that works straight out of the box using network wiring – no audio processing skills or AV expertise needed. Setup is easy: the system arrives pre-programmed, with microphones already paired, and the USB connection works with your existing conferencing system and standard network wires. All of the components that you'll need are included in the bundle, from microphones to cables, along with easy-to-follow instructions that guide you through installation. Featuring the Executive Elite wireless system and microphones, along with the Yamaha MRX7-D DSP processor, it's a flexible solution for a wide variety of conferencing applications.

YAI-1 Conference Room
Executive Elite 8-Channel Wireless Microphone System
7 Elite Directional Wireless Microphones
1 Elite Wearable Wireless Microphone
MRX7-D DSP
2 VXL1-16 POE line speakers
Dante AVIO USB Adapter
SWR2100P-5G L2 network switch with PoE
DCP1V4S Volume Wall Mount Controller
Available only in USA & Canada

Quality Audio Matched With Modern Design
Two active line array speakers specifically designed for larger meeting and conference rooms provide 16 elements in each speaker to ensure a constant audio experience for all participants. Speakers are powered by the included PoE SWR2100P-5G switch.

State of the Art Processing
High-quality audio performance is ensured by Yamaha's audio DSP (digital signal processing) expertise. Adaptive acoustic echo cancellation allows full duplex capabilities and adjusts to the room audio dynamically. Noise reduction allows elimination of acoustic signals like air conditioning sounds. A Dugan mixer is built in to ensure that the output volume stays constant even when several microphones are active.

Perfect Integration
Setup is easy: the system arrives pre-programmed, with microphones already paired, and the USB connection works with your existing conferencing system and standard network wires. Also included are all cables, wiring and a detailed description for connections. The use of Dante for audio over IP allows for standard network cables to be used.

Microphone Flexibility
Designed to provide exceptional audio quality in the most demanding environments, Revolabs Elite wireless microphones provide users with flexibility for a wide range of conference applications. The YAI-1 "Boardroom" package includes 8 Elite wireless gooseneck microphones, while the "Conference" package includes 7 Elite wireless directional microphones and 1 Elite wireless wearable microphone.