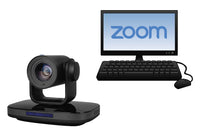 Zoom System for the Classroom with High Definition USB PTZ Camera with Auto Tracking
Many schools are now using Zoom.US to reach students remotely. Zoom offers both virtual classroom capabilities as well as the option to record classes and lessons to allow students to learn at their own pace. It can be an effective tool to for a "flipped classroom", where you make recorded lessons the homework and you bring the homework into the "virtual classroom". Bottom line, teachers are looking for a simple-to-use hardware solution with Zoom. Our GOHD4K high definition PTZ camera keeps things simple. With it's plug-and-play interface via a USB port, you just connect the GOHD4K camera to a laptop or desktop computer and Zoom will recognize the GOHD4K as your Zoom conferencing camera.
In addition to 1080p high definition video (and 4K over HDMI) and 20x zoom, the Go Electronic GOHD4K camera offers pan-tilt-zoom functionality which allows for complete room coverage and also offers preset position capability. So you can pre-determine camera shots (e.g., close-up of a lab table, pan to a white board, etc) and then, with the push of a button, you can move the camera to that shot. The camera settings, including the pan/tilt/zoom function and preset positions, can all be easily controlled with the included IR controller. Even more, the GOHD4K has auto tracking capabilities. With a built-in AI processor and deep learning technology, the camera will track the speaker in lectures automatically, no operator required to follow the speaker via the remote. 
We offer several microphone options to meet your specific needs. Speakerphones like the YVC-200 or YVC-330 are a great option for teachers who are hosting online classes. For personal use we recommend the YVC-200 speakerphone. For those who may be hosting a class with others at a shared working location, the YVC-330 is a great option for blocking out unwanted background noise. With similar functionality to the YVC-200, it adds an additional sound technology called SoundCap that eliminates background noise outside a one-meter range. This can be a great tool for ensuring an instructor's voice is picked up and clear for participating students. As classroom size increases and a greater pick-up range is required, the scalable YVC1000 with daisy-chain capability is recommended.
BASE PACKAGE INCLUDES:
One (1) GO ELECTRONIC GOHD4K high definition USB pan-tilt-zoom camera
One (1) 5 FT USB cable (included with camera)
**Please note: Zoom software is not included in this package. Visit https://zoom.us/pricing for more info on Zoom plans and pricing.

PACKAGE OPTIONS/ADD-ONS:
CAMERA MOUNTING OPTION:
No Mount
GOHD4K Wall Mount (White)
GOHD4K Wall Mount (Black)
AUDIO COMPONENT (choose one):
No Microcophone - I'll provide my own.
One (1) YAMAHA YVC-200 Portable USB Speakerphone. FOR UP TO 4 PEOPLE
One (1) YAMAHA YVC-330 USB & Bluetooth Portable Conference Phone. FOR UP TO 6 PEOPLE
One (1) YAMAHA YVC-1000 Unified Communications Microphone and Speaker System. FOR 8 OR MORE PEOPLE (WITH DAISY-CHAIN CAPABILITY)