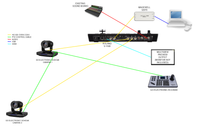 High Definition Video System for Church - Roland Switcher - 2 Cameras
The two-camera high definition video system for a church with the Roland V-1SDI switcher offers the ability to livestream, record and distribute in-house church services and facility functions. The GOHD4K PTZ cameras mounted in the sanctuary capture services in high definition. The pan-tilt-zoom functions of the two cameras are controlled remotely (in the AV room) via the RCC6000 joystick controller. A single controller can control up to six cameras installed in a daisy-chain configuration. Camera positions can be preset with the controller making operation easier for church volunteers. Note, the RCC6000 joystick controller does not have any video functionality. Camera video must be previewed via a multiview external preview monitor connected to the Roland mixer (to be discussed below).


In this system, HD-SDI video signals are sent from each of the two cameras over coax cable (in a home-run configuration, not daisy-chain) to the AV room in the church where they run into the Roland V-1SDI AV Mixer. Audio is captured from an existing sound board to the V-1SDI via RCA audio input jacks. With the Roland mixer, you can switch between cameras, select transitions (wipes, cuts, mixes), set up compositions including DSK, PinP, and more. In addition to three HD-SDI inputs, you can connect other equipment, such as computers and Blu-ray players, via HDMI inputs on the mixer to incorporate additional content (e.g., scripture/lyrics) in your broadcast. The Roland V-1SDI mixer has an external multi-view HDMI output. Any single TV/monitor with HDMI input can be used to preview four video inputs. Note, this preview TV/monitor is not provided in this system and must be sourced separately.

Live streaming and recording are possible using one of the two SDI outputs on the Roland mixer. Simply send HD-SDI video and embedded audio out the mixer and into the Magewell 32070 SDI to USB dongle to capture to your computer.
Capture Express is a basic software for previewing, recording or streaming one input source offered by Magewell. Capture Express records one channel of video as mp4 files to your local storage. Users can customize the resolution, frame rate, bitrate and color space of the recording, or simply choose "match source" for easy setting. Capture Express uses H.264 encoding format for video compression. Users can also stream to Facebook/YouTube/Twitch servers. Capture Express also supports RTMP, SRT Caller, SRT listener, TS over UDP, TS over RTP and other live protocols. Users can manually add, edit and delete live stream servers.  Note, Capture Express is for Windows only.

For more sophisticated professional production features and more streaming and recording options, upgrade to Wirecast software. Wirecast is live streaming production software that allows you to cost-effectively create live or on-demand video broadcasts for the web. Wirecast supports unlimited input devices, including cameras, audio, graphics and more. With its user-friendly interface, you can polish your broadcasts by adding transitions, titles, watermark graphics, etc. Then you can stream live and/or record to your computer for archiving, DVD duplication or on-demand distribution.
Note, this system does NOT include a computer or streaming services for live streaming.

The broadcast can also be output from the V-1SDI via the second HD-SDI output for live distribution to overflow rooms, cry rooms or nurseries, for example. The type of distribution system to be used would depend on the number of TVs you want to broadcast to and the location of the TVs (cable lengths required to reach the TVs).

PRODUCTS IN BUNDLE:

GO ELECTRONIC GOHD4K
4K 3G-SDI/HDMI/IP/USB PTZ Camera with 20x Zoom
Note, camera must be powered near mounted location with included power supply.

MT400-W
Optional Wall Mount for GOHD4K
Available in white

EVI CONTROL CABLE
Connects camera to RCC6000 joystick controller for PTZ control.
Available in lengths up to 200ft

EVI DS CABLE
Connects camera to camera in a daisy-chain configuration for PTZ control.
Available in lengths up to 200ft

GO ELECTRONIC RCC6000
Joystick Controller for Pan/Tilt/Zoom Cameras
Control up to six cameras in a daisy-chain configuration.

1694-B-B
Coax cable carries video from camera to Roland switcher.
Available in lengths up to 200ft

ROLAND V-1SDI
SDI/HDMI AV Mixer
The Roland V-1SDI is a compact, portable AV switcher with SDI and HDMI inputs.

MAGEWELL 32070
1-Channel SD/HD/3G SDI USB 3.0 Capture Dongle
Capture broadcast from Roland switcher to computer (not included). Use Magewell's free Capture Express software to live stream or record. CLICK HERE to download Capture Express.

TELESTREAM WC-STU-W/M
Optional Wirecast Studio
Software adds ability to simultaneously live stream to an unlimited number of streaming destinations (YouTube, Facebook Live, any RTMP destination, etc) and record broadcast to your computer.