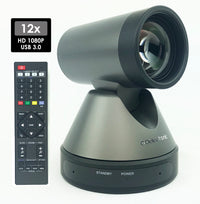 GO ELECTRONIC GOHD20U USB 3.0 High Definition 12x PTZ Camera
Our GOHD20U high definition USB 3.0 pan-tilt-zoom camera offers easy plug-and-play USB connectivity to your computer. The camera is compatible with web conferencing software including Zoom, Skype, Webex, GoToMeeting, and many others. The 72.5° wide angle lens makes the camera ideal for conferencing applications. The GOHD20U is also an economical high quality option for high definition live streaming of events such as high school or college sporting events. The GOHD20U provides 1080p/60 HD video resolution and excellent low-light performance. Pan, tilt and zoom movement can be controlled with the included IR remote or the optional RCC6000 joystick controller.
FEATURES
Plug-and-play - The GOHD20U is truly a plug-and-play camera. Just plug the camera into an available USB port on your laptop or desktop and the GOHD20U will be immediately recognized by the most popular streaming applications including (but not limited to) YouTube, Zoom and Facebook Live.
Full-Function USB Interface - USB 3.0 and USB 2.0 compatible. Supports audio, compressed video and UVC/UAC protocol.
Built-in Microphone - Optional high-sensitive built-in microphone. Up to 5-meter pick-up distance.
1080P Full HD - Maximum 1920x1080 high resolution.
Ultra-High Frame Rate - Output frame rate up to 60fps in 1080p.
Wide-Angle Zoom Lens - 72.5° wide angle lens with 12x optical zoom and 32x digital zoom.
Low-Light - High SNR of CMOS sensor combined with 2D and 3D noise reduction algorithm, effectively reduces the noise producing a clean and clear picture even under low-light conditions.
APPLICATIONS
Web Conferencing

Compatible with Zoom, Skype, Webex, GoToMeeting and other web conferencing solutions. With it's plug-and-play connectivity, the camera is immediately recognized by the application.

House of Worship

Paired with a live streaming platform such as Facebook Live, YouTube or Zoom, the GOHD20U offers churches an easy-to-use and affordable solution for churches looking to reach congregation members who are unable to attend church services in person. With it's 12x zoom, the camera can be mounted on the back wall of the sanctuary and still capture a clear, close-up shot of the podium.

Live Streaming

Whether you are live streaming a sporting event, a church service or a city council meeting, the GOHD20U offers an affordable, yet quality solution. And, if you're using OBS for streaming, you can control the camera's ptz functions from within the OBS interface.

Distance Learning

Many schools are now using Zoom.US to reach students remotely and teachers are looking for a simple-to-use Zoom-compatible camera. Our GOHD20U high definition PTZ USB camera keeps it simple - just connect it to the USB port of a laptop or desktop computer and Zoom will recognize the GOHD20U as your Zoom conferencing camera.
WHAT CUSTOMER'S ARE SAYING
Used this for the first time for our church service. Worked great right out of there box with OBS software. Good presets. Fast or slow zoom. Used the backlight which was good. Major upgrade from what we had. Great picture quality . - December 6, 2020

The only choice to make for a great conference camera. Outstanding video conference camera. Great picture quality with smooth slow and fast zooming. Extremely versatile in setting preset camera shots. A great investment for the novice or professional user. - July 10, 2020

I was worried this camera was not going to measure up since the price was lower than the higher rated USB PTZ cameras that are 3x the price. This camera performed so well I bought a 2nd one. Camera is being used to live stream Church services from a 300-400 seat auditorium. It is locate in the balcony 75-100 feet from the stage and the optical zoom is perfect for all areas of the stage including close ups of speakers at the podium. Not using audio from the camera so I can't speak to it's quality, but the video is exceptionally clear. PTZ functions are simple to control using the included remote and also using camera control in the streaming software (OBS). Auto focus works extremely well and is stable. Camera stores 10 preset locations including zoom level and is spot on repetitive when selected from a single remote button press. - June 30, 2020

This camera is used within our Association for meetings and classes that are transmitted via Zoom. The camera has become a vital resource and has been working exceptionally well for us. - P. Beckett, June 23, 2020

I use a web cam everyday at work. I thought my old one was really good but this camera has blown my mind! It's crystal clear even at 30 fps. I'm pushing it through a Macbook Mid-2012. - T. Decker, January 5, 2019

We purchased this camera to as a primary camera for our Zoom conference room. We use Zoomroom software and a small ASUS media server computer on the back of one of two large monitors. The motion of the camera is great. The picture is superb. It needs a computer fast enough to process its full resolution for quality live streaming or conferencing. The zoom has two speeds which are very useful. We really appreciate the quality of the device and its performance. We had one mechanical issue when installing it. Go Electronic's staff were very responsive and helped us completely solve the problem onsite, quickly. We appreciated their help. Would recommend device and company. - K. Parker, June 25, 2018
TECHNICAL SPECIFICATIONS
CAMERA SPECIFICATIONS
Video System: HD: 1080p60, 1080p50, 1080i60, 1080i50, 1080p30, 1080p25, 720p60, 720p50, 720p30, 720p25
Sensor: 1/2.7", CMOS, Effective Pixel: 2.07M
Scanning Mode: Progressive
Lens: 12x, f3.5mm to 42.3mm, F1.8 to F2.8
Digital Zoom: 32x
Minimal Illumination: 0.5 lux @ F1.8. AGC ON
White Balance: Auto, 3000K/Indoor, 4000K, 5000K/Outdoor, 6500K_1, 6500K_2, 6500K_3, One Push, Manual
Backlight Compensation: Support
Digital Noise Reduction: 2D & 3D Digital Noise Reduction
Video S/N:≥55dB
Horizontal Angle of View: 72.5° to 6.9°
Vertical Angle of View: 44.8° to 3.9°
Horizontal Rotation Range: ±170°
Vertical Rotation Range: -30° - +30°
Pan Speed Range: 1.7° to 100°
Tilt Speed Range: 1.7° to 69.9°
H & V Flip: Supported
Image Freeze: Supported
Number of Preset Positions: 255
Preset Accuracy: 0.1°

USB SPECIFICATIONS
Operating System: Windows XP, Windows Vista, Windows 7, Windows 8, Windows 10, Mac OS X, Linux
Color System Compression: YUV 4:2:2 / H.264 / MJPEG
Video Format: USB 3.0: 1080p60, 1080p50, 1080p30, 1080p25, 720p60, 720p50, 720p30, 720p25; USB 2.0: 1080p30, 1080p25, 1080p15, 1080p10, 720p30, 720p25, 960x540p30, 960x540p25, 640x360p60, 640x360p50
Audio on USB: Supported
USB Video Communication Protocol: UVC 1.0 to UVC 1.5
UVC PTZ: Supported

INPUT/OUTPUT INTERFACE
USB Interface: 1x USB 3.0 Type B female jack
Audio Interface: 1-Channel 3.5mm audio interface, line in
Communication Interface: 1x RS232 In: 8-pin Mini DIN, Maximum Distance: 30m, Protocol: VISCA/Pelco-D/Pelco-P; 1x RS232 Out: 8pin Mini DIN, Maximum Distance: 30m, Protocol: VISCA network use only; 1x RS485: Share with RS232 Out, Maximum Distance: 1200m, Protocol: VISCA/Pelco-D/Pelco-P
Power Jack: JEITA type (DC IN 12V)

GENERAL SPECIFICATIONS
Input Voltage: DC 12V
Current Consumption: 1.0A (Max)
Operating Temperature: -10°C to 40°C (14°F to 104°F)
Storage Temperature: -40°C to 60°C (-40°F to 140°F)
Power Consumption: 12W (Max)
MTBF: >30000h
Size: 128.5mm x 118mm x 156.2mm
Net Weight: 0.91kg
Warranty: 1 Year

WHAT'S IN THE BOX
Camera
AC power adapter
Power cord
USB 3.0 cable (5ft)
IR remote control
User Manual