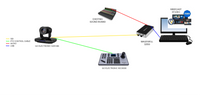 Live Stream System with High Definition PTZ Camera for Academic Institutions
Create live webcasts of lectures, interviews, workshops for professional development or student instruction which combine video from a pan-tilt-zoom camera, movies, computer desktops, audio tracks, images and titles to make striking broadcasts for the Web. Anchored by the high definition Go Electronic GOHD4K pan-tilt-zoom camera and Wirecast streaming production software, this package is ideal for anyone who wants to stream or record professional broadcasts to live or on-demand audiences.
The Go Electronic GOHD4K camera offers pan-tilt-zoom functionality which allows for complete room coverage and also offers multiple PTZ preset ability. With a 20x optical zoom lens and large pan and tilt angles, this camera is ideal for recording lectures. The camera settings, including the pan/tilt/zoom function and preset patterns, can be easily controlled with the RCC6000 joystick controller.
You don't need to be a video professional to create polished live broadcasts. Wirecast's powerful production capabilities make it easy to dynamically mix your live camera feed with pre-recorded video, audio, graphics, Excel spreadsheets, PowerPoint slides and more. Easily generate transitions, titles and lower thirds, and other video effects for added polish. Use the built-in Desktop Presenter to broadcast the desktop of another computer; perfect for PowerPoint or Keynote presentations, or for broadcasting live interviews using Skype or other chat clients. Streaming to the web is as simple as clicking Broadcast. And with the ability to record the broadcast and stream live footage at the same time, you can offer video in real time or on demand without duplicate effort.
BASE PACKAGE INCLUDES:
One (1) GO ELECTRONIC GOHD4K high definition color pan-tilt-zoom camera
One (1) GO ELECTRONIC RCC6000 joystick controller
One (1) 10 FT PTZ CONTROL cable (connects camera to ptz controller)
One (1) 10 FT BNC cable (connects camera to video capture device)
One (1) MAGEWELL 32050 1-Channel SD/HD/3G-A/3G-B/2K SDI to USB 3.0 Capture Dongle plus audio input
One (1) Wirecast Studio live streaming production software license (for Mac or Windows)

PACKAGE OPTIONS/ADD-ONS:
PTZ control cable lengths:
10 FT Control Cable
25 FT Control Cable
50 FT Control Cable
100 FT Control Cable
150 FT Control Cable
200 FT Control Cable
BNC video cable lengths:
10 FT BNC Cable
25 FT BNC Cable
50 FT BNC Cable
100 FT BNC Cable
150 FT BNC Cable
200 FT BNC Cable
WIRECAST live streaming production software:
WIRECAST STUDIO for Windows - TELESTREAM WC-STU-W
WIRECAST STUDIO for Mac - TELESTREAM WC-STU-M
WIRECAST PRO for Windows - TELESTREAM WC-PRO-W
WIRECAST PRO for Mac - TELESTREAM WC-PRO-M
OPTIONAL MOUNT for the GOHD4K camera:
Wall Mount in white (MT400-W)
Wall Mount in black (MT400-B)
OPTIONAL AUDIO:
One (1) REVOLABS XTAG USB Wireless Microphone