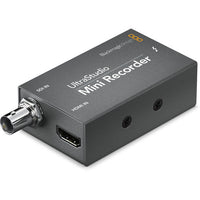 BLACKMAGIC BDLKULSDZMINREC UltraStudio Mini Recorder
When you need tiny sized portable video capture and playback for your Thunderbolt laptop or desktop computer then UltraStudio Express and UltraStudio Mini are the perfect solution. You get an extremely affordable solution with high quality SD and HD video all powered from the Thunderbolt connection so you just plug in and go! UltraStudio Express includes capture and playback of SD/HD-SDI, HDMI and analog video and analog audio all in the one beautifully designed model. UltraStudio Mini Recorder is the pocket sized SDI and HDMI recorder and UltraStudio Mini Monitor features SDI and HDMI playback, perfect for simple low cost NLE monitoring.
Advanced Workflow
UltraStudio Express and the UltraStudio Mini's are the solution you need when doing SD and HD work that demand quality. If you're editing with Avid Media Composer, Final Cut Pro or Premiere Pro then you get high quality and an extremely portable design, perfect for editing on location. UltraStudio takes care of moving your media in and out of your computer so it's perfect for modern file based workflows. UltraStudio is powered via the Thunderbolt connection so it powers from your laptop battery. That makes UltraStudio Express the perfect "everything in and out" solution that you can take with you. If you're traveling light, then UltraStudio Monitor is the ideal solution for monitoring when editing and it's smaller than your phone!
Attractive Portable Design
The UltraStudio Express model features a wonderful machined aluminum design that looks great with your laptop or on your desktop. You get SDI and HDMI connections on the rear panel as well as a break out cable connector for analog video and audio. UltraStudio Express includes two break out cables, one for professional use with BNC video connections and XLR audio connections, plus reference input and RS422 deck control. The other break out cable includes RCA connectors for audio and video so you can connect to consumer equipment. Dual break out cables means you can capture and playback from a wider range of both professional and consumer equipment. UltraStudio Mini Recorder and Monitor include only a single HDMI and SDI connection each so they are the tiniest way to capture and playback video available!
World's Highest Quality Connections
UltraStudio is the perfect capture and playback device for your work now and well into the future! Simply choose between UltraStudio Express, UltraStudio Mini Recorder or UltraStudio Mini Monitor depending on your needs. Connect all your I/O devices with SD/HD-SDI, HDMI with 8 channels of embedded audio. SDI and HDMI are fully digital connections and are amazing quality.
HDMI is fantastic for low cost HD monitoring as it's on all good modern TVs and video projectors! When you need analog then UltraStudio Express features analog that switches between SD and HD so it can connect to older equipment directly. Connect to virtually any video device, monitor and even decks such as HDCAM-SR, HDCAM, D5, Digital Betacam, DVCPRO HD and more for frame accurate editing and recording!
The Power of Thunderbolt
Built on revolutionary Thunderbolt™ technology, UltraStudio has a blazingly fast 10 Gb/s connection that's up to 20 times faster than USB 2.0. That's enough bandwidth to handle the highest resolution video formats easily! Thunderbolt ensures low latency and highly accurate time synchronization, making the UltraStudio ideal for demanding HD work. Thunderbolt also has the power budget to allow UltraStudio to operate from the Thunderbolt connections, so it can operate from your laptop battery, perfect for on location or remote areas. UltraStudio makes it easy to work with all the video formats you need, conveniently on your desktop or notebook computer!
Unmatched Quality
Now you can handle any job your client presents to you, from TVC to feature films. UltraStudio operates with both compressed and uncompressed video, so it can handle anything and you're not locked into a single codec quality. When working with uncompressed video, all captured images are a perfect pixel-for-pixel clone of the source, without any generational loss or damaging compression, so you have the confidence you're working at the absolute highest quality possible! Get the sharpest green screens, cleanest compositions, superior color correction and more! With mature drivers, award winning Media Express software, attractive design, and the highest quality video!
Advanced Video Technology
UltraStudio Express uses the latest technology so you get an amazing amount of performance packed into an extremely small design, all low power enough to be Thunderbolt powered! UltraStudio Express and UltraStudio Mini models might be low cost, but they include the same advanced video technology that other companies charge tens of thousands of dollars for. You get low jitter SDI video that meets broadcast specifications and instantly switches between standard definition and high definition. That means you can use it for anything. The included HDMI connections adhere to the latest versions of the HDMI standard so you eliminate HDMI incompatibilities. Both SDI and HDMI include multiple channels of embedded audio as well as ancillary data such as RP-188.
Compatible with all Video Software!
UltraStudio is fully compatible with your favorite software. Blackmagic Design was the first company in the world to ship a Thunderbolt video product so we have mature drivers that work with more software! All UltraStudio files are open standard DPX and QuickTime format, so are compatible with all software. UltraStudio even includes a developer SDK and QuickTime API so you can develop your own custom solutions!
You get drivers that work with fantastic editing software such as Avid Media Composer, Apple Final Cut Pro X, Apple Final Cut Pro 7, Adobe Premiere Pro, Avid Symphony, Avid News Cutter. For visual effects get full compatibly with Adobe After Effects, The Foundry Nuke and Adobe Photoshop. For broadcast automation you can use Tools On Air just:in & live:cut & just:play & just:live, Softron OnTheAir, MovieRecorder and OnTheAir CG. For audio get compatibly with ProTools, Steinberg Nuendo & Cubase. For streaming use Flash Media Encoder, Wirecast, Livestream Procaster. VJ use supports Resolume Avenue 4.
| | | |
| --- | --- | --- |
| CONNECTIONS | UltraStudio Mini Monitor | UltraStudio Mini Recorder |
| SDI Video Input | None | 1 x 10-bit SD/HD switchable. |
| SDI Video Output | 1 x 10-bit SD/HD switchable. | None |
| HDMI Video Input | None | 1 x HDMI type A connector. |
| HDMI Video Output | 1 x HDMI type A connector. | None |
| SDI Audio Input | None | 8 Channels embedded in SD and HD. |
| SDI Audio Output | 8 Channels embedded in SD and HD. | None |
| HDMI Audio Input | None | 8 Channels embedded in SD and HD. |
| HDMI Audio Output | 8 Channels embedded in SD and HD. | None |
| Computer Interface | Thunderbolt™ | Thunderbolt™ |
| | | |
| --- | --- | --- |
| STANDARDS | UltraStudio Mini Monitor | UltraStudio Mini Recorder |
| SD Format Support | 625/25 PAL, 525/29.97 NTSC and 525/23.98 NTSC. | 625/25 PAL, 525/29.97 NTSC and 525/23.98 NTSC. |
| HD Format Support | 720p50, 720p59.94, 720p60, 1080PsF23.98, 1080p23.98, 1080PsF24, 1080p24, 1080PsF25, 1080p25, 1080PsF29.97, 1080p29.97, 1080PsF30, 1080p30, 1080i50, 1080i59.94 and 1080i60. | 720p50, 720p59.94, 720p60, 1080PsF23.98, 1080p23.98, 1080PsF24, 1080p24, 1080PsF25, 1080p25, 1080PsF29.97, 1080p29.97, 1080PsF30, 1080p30, 1080i50, 1080i59.94 and 1080i60. |
| SDI Compliance | SMPTE 259M and 292M. | SMPTE 259M and 292M. |
| SDI Metadata Support | VITC read for 3:2 pulldown removal. VANC capture using up to 3 lines of video in file. HD RP188. Closed captioning. | VITC read for 3:2 pulldown removal. VANC capture using up to 3 lines of video in file. HD RP188. Closed captioning. |
| Audio Sampling | Television rate of 48kHz and 24 bit. | Television rate of 48kHz and 24 bit. |
| Video Sampling | 4:2:2 | 4:2:2 |
| Color Precision | 10-bit | 10-bit |
| Color Space | REC 601, REC 709 | REC 601, REC 709 |
| HDMI Configuration | HDMI automatically configures to connected display. | HDMI automatically configures to connected display. |
| HDMI Resolution | Pixel for pixel HD resolution input to connected device. | Pixel for pixel HD resolution input to connected device. |
| HDMI Color Precision | 10-bit | 10-bit |
| Multiple Rate support | SDI and HDMI are switchable between standard definition and high definition. | SDI and HDMI are switchable between standard definition and high definition. |
| Copy Protection | HDMI input is unable to capture from copy protected HDMI sources. Always confirm copyright ownership before capture or distribution of content. | HDMI input is unable to capture from copy protected HDMI sources. Always confirm copyright ownership before capture or distribution of content. |
| | | |
| --- | --- | --- |
| PROCESSING | UltraStudio Mini Monitor | UltraStudio Mini Recorder |
| Colorspace Conversion | Hardware based real time. | Hardware based real time. |
| HD Down Conversion | Software based down conversion during video playback. | None |
| HD Up Conversion | None | Software based up conversion during video capture. |
| Real Time Effects | Apple Final Cut Pro™ internal effects. Adobe® Premiere Pro® Mercury Playback Engine effects. Avid Media Composer 6™ internal effects. | Apple Final Cut Pro™ internal effects. Adobe® Premiere Pro® Mercury Playback Engine effects. Avid Media Composer 6™ internal effects. |
| | | |
| --- | --- | --- |
| EXTRAS | UltraStudio Mini Monitor | UltraStudio Mini Recorder |
| Software Included | Media Express, Disk Speed Test, Blackmagic System Preferences and Blackmagic driver. | Media Express, Disk Speed Test, Blackmagic System Preferences and Blackmagic driver. |
| Internal Software Upgrade | Firmware built into software driver. Software driver loads upgrades at system start or via updater software. | Firmware built into software driver. Software driver loads upgrades at system start or via updater software. |
| Physical Installation | Requires computer with a Thunderbolt™ port. Please check the Support pages to see the full system requirements. | Requires computer with a Thunderbolt™ port. Please check the Support pages to see the full system requirements. |
| Operating System Compatibility | Mac OS X 10.7 Lion or later or Mac OS X 10.8 Mountain Lion or later. | Mac OS X 10.7 Lion or later or Mac OS X 10.8 Mountain Lion or later. |
| Product Warranty | 12 Month Limited Warranty. | 12 Month Limited Warranty. |