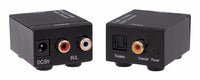 KANEXPRO AUD2ACV Digital-to-Analog Audio Converter, S/PDIF or Toslink to Stereo Audio
The KanexPro Digital to Analog Audio adapter converts your digital S/PDIF or Optical (TOSLINK) audio input source to RCA output. Ideal for connecting equipment such as an A/V receiver or a recording deck via the standard RCA connectors. Now you can link your legacy sound system with digital sources such as a Blu-ray player, DVD and CD players that lacks the RCA-style analog outputs. The converter is compact in size and requires minimal setup.


Supports uncompressed 2-channel LPCM digital audio signal output.
Supports output sampling rate at 48 KHz
Provides electromagnetic-noise-free transmission
Easy to install and simple to operate
Compact size