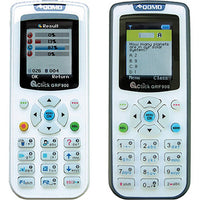 QOMO QRF900 QClick RF Based Audience Response System with Color LCD Display
The QRF 900 represents a new generation in audience response systems. It's innovative cell-phone like design and vibrant, full color LCD display is engaging to students and teachers alike. It can be used wirelessly in a lecture hall, or leave the computer in the classroom and use the clickers out in the field to send and store information. The QRF900 allows for alpha-numeric and text inputs. Responders can key in short text answers along with numeric answers, or a combination of both! The full color, 1.7 inch display shows on-screen text for quizzes. The dedicated teacher remote offers laser pointer and mouse functionality. The easy-to-use QClick software package offers ten unique activity modes including testing, gaming and ad-hoc. Users can create new quizzes within the software or use existing powerpoint presentations or other files to administer tests and assignments to their audience.

FEATURES:
Full color backlit LCD display
Familiar cell phone style keypad
Supports 20 lines of alphanumeric characters
Remotely give tests and collect answers without a computer
Displays questions in full text on remotes
Logs into classes automatically

SPECIFICATIONS:

Remote Specifications
Dimensions: 4.9" x 2" x .98"
Weight (with batteries): 4.3oz
Weight (without batteries): 2.6oz
Communcation: 2-way radio frequency
Radio Frequency Range: 2400 - 2483.5Mhz ISM/SRD
Transmission Range: 250ft
Operating Temperature: 14 - 122 F
Operating Humidity: < 80%
Display Size: 1.7" Backlit LCD
Display Resolution: 128 x 160 pixels (65k colors)
Input: Full alpha numeric character set
Power: 2 AA Batteries
Laser Pointer: Built-in (Instructor unit only)
Wireless Mouse: Built-in (Instructor unit only)

USB Receiver Specifications
Dimensions (without antenna): 3.1" x .9" x .35"
Weight: 1oz
Maximum Units per receiver: 1000
Connection: USB
Transmit Power: 1dbm
USB Device Driver: Windows Compatible Only