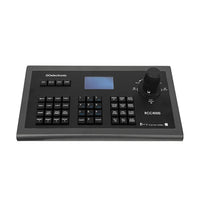 GO ELECTRONIC RCC4000 Joystick Controller for PTZ Cameras - DISCONTINUED AND REPLACED BY RCC6000
The RCC4000 has been discontinued and replaced by the RCC6000
The RCC4000 pan tilt zoom joystick controller replaces the original RCC1000. Similar to the RCC1000, the new model supports VISCA protocol meaning it will work with any ptz camera using the VISCA command protocol. In addition to the joystick and keyboard, the controller has a small screen for displaying commands and the camera's working status.

**NEW!** Upgrades with the RCC4000:
Shortcut keys for camera selection (up to six cameras)
Shortcut keys for four preset positions
Larger screen for command/camera status display
Redesigned keyboard layout for easier, more efficient operation


FEATURES
Supports VISCA protocol
The RCC4000 works with Sony EVI, BRC, and SRG series PTZ cameras, Hitachi PTZ cameras and Go Electronic PTZ cameras
Set and recall presets PTZ cameras
Now it's even easier to use preset positions with the RCC4000. Once preset positions have been set, you can easily access preset positions 1-4 with the push of just one button (access positions 5-7 with the push of two buttons)
Communication modes: RS232, RS422
If selecting RS232, VISCA cables are required for connecting the camera(s) to the controller. If selecting RS422, Cat5/Cat6 cable is used for connecting the camera(s) to the controller. Please note, you are not able to use a combination of VISCA and network cable in a single system set-up since they use different communication modes.
All camera settings/functions can be set conveniently through function keys
Control up to six PTZ cameras with one controller in a daisy-chain configuration
With the RCC4000, cameras can be selected with the push of one button. This makes controlling multiple cameras even easier.
Multiple cameras are connected to the RCC4000 in a daisy-chain configuration meaning Camera 1 connects to the RCC4000, Camera 2 connects to Camera 1, Camera 3 connects to Camera 2 and so on. If using the RS232 communication mode, the first cable that connects Camera 1 to the RCC4000 is the EVI CONTROL CABLE, with a serial connector to connect to the RCC4000 and 8-pin mini-DIN connector to connect to the camera. Additional cameras are connected to one another using EVI DS CABLE with 8-pin mini-DIN connectors on both ends.
Touch sensitive joystick control of pan, tilt and zoom speed
Selectable speed range of pan/tilt control (low, medium, high, or super)
The best speed range is dependent on the system setup and operator. For example, if the joystick is operated by someone who hasn't used it before, selecting one of the slower speed ranges would be ideal until the operator gets more comfortable with the sensitivity of the joystick. The slower speed range is also preferred if the camera will be operated in a zoomed in position much of the time. A faster speed range may be desirable if controlling multiple cameras since you would likely be changing a camera position while another camera is live. The 'Super' speed range is required when controlling certain cameras, such as Sony's BRC series cameras, because these cameras are built with a different motor mechanism that does not respond in the slower speed ranges.
Supports password lock of camera function keys
Key-press sound ('beep') on/off function
NOW INCLUDES FULL TWO YEAR PARTS AND LABOR WARRANTY

WHAT'S IN THE BOX
RCC4000 Joystick Controller
12 VDC AC Adapter
8 Foot VISCA EVI CONTROL CABLE (9pin D-Sub to 8 pin Mini Din)
Instruction Manual
RCC4000 PRODUCT MANUAL