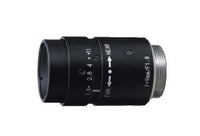 KOWA LM9NF 1/3" 9.0mm NF Mount MegaPixel Lens
The Kowa LM9NF lens is a 1/3" 9.0mm NF mount high resolution lens perfect for use with the Sony XC-505 camera. This lens gives an identical field of view on the 1/3" format XC505 camera as the discontinued VCL-12S12XM 12.0mm lens gave on the old 1/2" XC-555 camera.

LM9NF FEATURES:
Megapixel Resolution
9.0mm Focal Length
Metal housing
Metal mount
Locking screws for iris and focus

SPECIFICATIONS
Focal Length: 9.0mm
Main Sensor Size: 1/3"
Iris Range (F-Stop): F1.8~11
Angle of View: Vertical 22.8 degrees, Horizontal 30.2 degrees, Diagonal 37.6 degrees
Distortion (TV): -0.6%
Shooting Range at M.O.D: Vertical 43mm, Horizontal 58mm, Diagonal 73mm
Minimum Focus Distance: 0.1 meter
Flange Back in Air: 12mm
Back Focus in Air: 8.64mm
Diameter: Front 11.8mm Rear 8.3mm
Mount: NF
Exit Pupil: -23.5mm
Weight: 40 grams
Temperature Range: -10 Celsius to +50 Celsius