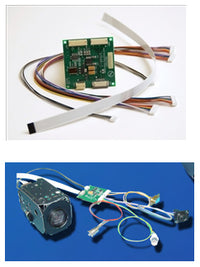 ISHOT FCB-RS Connector Interface Board for Sony FCB-EX Series Cameras
This FCB-RS Interface Board works with Sony FCB-EX series cameras and allows remote communication to the camera head. Comes complete with board and wire set with both S-Video and BNC output, RS-232 connection, 12-inch ribbon cable and power connection (ACTUAL CONNECTORS NOT INCLUDED - JUST BARE WIRE INPUTS/OUTPUTS). This allows for easy testing of the FCB-EX series cameras with standard connections.
Output high-resolution video from the head simultaneously or independently through the S-Video or Composite video connections.
Communicate with the camera head using the included connection using RS-232, RS-485, or TTL protocols.
This board is RoHS compliant.
Compatible with Sony FCB-EX series such as FCB-EX11D, FCB-EX20D, FCB-EX48C, FCB-EX48E, FCB-EX490D, FCB-EX490E, FCB-EX480C, FCB-EX48C, FCB-EX990D, FCB-EX 980S, FCB-EX980SP, FCB-EX980, FCB-EX985E, FCB-EX995E FCB-EX1010, FCB-EX1020
View the FCB-RS Pin Out and Connection Sheet(pdf)