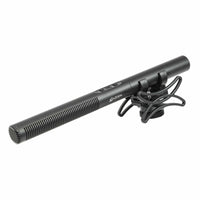 AZDEN SGM-250 Professional Dual Powered Shotgun Microphone
Handcrafted in Japan
High sensitivity, low-noise condenser microphone element
Wide frequency response for accurate audio capture
Supercardioid polar pattern for rejecting side noise
Powered by P48 phantom power
Option to power by AA battery without sacrificing performance
LED battery indicator
Low-cut filter
All metal case for resistance to RF and durability
10 year warranty with online registration
The SGM-250's newly designed microphone element drastically improves performance in sensitivity, frequency response and signal to noise ratio. The brass alloy, all-metal case provides rugged durability and strong resistance to RF. The microphone's uniquely designed, slotted, acoustic barrel exhibits excellent super-cardioid directionality and side noise rejection.
The SGM-250 can be powered by battery or phantom power with no perceivable loss in performance between the two, providing the user with maximum flexibility without compromise. No need to remove the battery in order to switch to phantom power; just flip the easily accessible switch on the microphone's body. A convenient LED light is also provided to let you know if the battery is good or needs replacing soon.
Even the microphone's low-cut filter is a point of improvement: set at a higher cut-off frequency than most other microphones, and a more gradual roll-off, it produces a much more natural sounding reduction in low frequency response.
Measuring 250mm in length (about 10 inches) the SGM-250 is suitable for almost any filming situation. Long enough to capture great sound from a distance while mounted to a boom pole or on top of a shoulder cam, its still unobtrusive enough to be used on compact DSLR cameras.
Included with this microphone:
Leatherette zippered carrying pouch

Foam Windscreen

Shock-Mount Holder

Manual