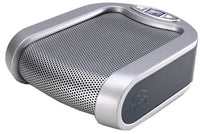 PHOENIX AUDIO DUET PCS Personal Conferencing USB Speakerphone
Phoenix Audio's Duet is a best-in-class speakerphone for the desktop voip user and road warrior. It is the primary audio interface for the mobile workforce, dependent on voip for communication.

The Duet generates clear communication through proprietary Acoustic Echo Cancellation, Line Echo Cancellation, Noise Suppressiona and equalizer algorithms embedded within the product. The Duet provides 360 degree room coverage so more than one person can participate in an online conference, Headset-Free and Handset-Free. Loudspeaker output (always a problem with laptops) is sufficient for larger offices and even medium sized conference rooms.

The Duet can be utilized in a number of configurations. In its most simple, a USB interface to the PC powers the speakerphone. More sophisticated options include connecting Duet to IP Phones, POTS and even cellphones through available headset connections. Duet connectivity to any of these phones and the PC gives users the advantage of conferencing voip callers together with standard callers. Last, users have the option of connecting their headset to the Duet for private communication, such as required in IP call centers or public spaces.

The Duet enhances the user experience with many PC applications: VOIP, softphone, web conferencing, distant learning, instant messaging, sound recording, telemedicine, etc. Furthermore, the Duet can improve your telephone's or cellphone's speakerphone performance as well.

Lightweight and sleek design, the Duet has redefined the standard in speakerphones for the desktop and revolutionized audio performance for laptops on the road.

BENEFITS:

Performance - Full duplex audio with echo cancellation & noise suppression
Mobility — Lightweight, slim-line design. Travels well with laptops
Connectivity — Laptop, IP Phone, standard Phones & cellphones
Easy-To-Use — USB interface for PC and Laptop users (no software)
Flexibility - Choice between speakerphone or headset mode

FEATURES:

Built-in microphone and loudspeaker
Small footprint design
USB interface - for desktop and laptop use
Stereo 3.5 audio jack for external speakers and headphone connection
Mute Button, Volume Up and Volume Down Buttons
Acoustic Echo Cancellation, Line Echo Canceling, Noise Suppression, Voice Level Compensation

SPECIFICATIONS:

Size: 3.75 in x 1.25 in x 4.5 in (W x H x D)

Weight: Carrying with USB cable 0.55 lbs

Power:

USB power for PC and Laptop (LED will illuminate)
External power supply included for phone only configurations (when Duet is not plugged into the PC)

Audio:

100% Full Duplex Performance — No attenuation (either way) during full duplex
Acoustic Echo Cancellation >40 dB
High-end Performance: Conforms to ITU-T G.167 Standard
Line Echo Cancellation
Noise Cancellation >10dB
Residual Echo is Suppressed to the Environment Noise Level to Prevent Artificial Ducking of Signal
Voice Level Equalization
Convergence speed 40 dB/sec
Tail length (200ms)
Convergence during full duplex (no recovery time after full duplex)
Low delay (10 msec)
Bandwidth 20 — 7500 kHz for Speech Processing Maintains the Soundcard bandwidth
Integrated Loudspeaker
Mute Button and loudspeaker volume control buttons (LED will blink in mute mode)

Performance:

Speech processing and echo suppression at 16KHz sampling rate
Maintains Audio Performance of the PC for HiFi audio applications when external speakers are connected.
Plugging in a headset will automatically turn off the speakerphone.

CONFIGURATIONS:

USB - PC or Laptop Connectivity
3.5mm - External Loudspeakers (full bandwidth) or headphone