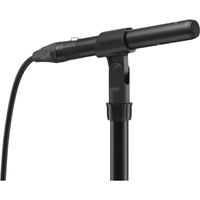 SONY ECM-100N Omni-directional Electret Condenser Microphone
The Sony ECM-100N is an Omni-directional electret condenser microphone ideal for instrument recording in studio and compatible with High-Resolution Audio. Equipped with a newly developed microphone capsule, the ECM-100U delivers flat and wide frequency response of 20 to 50,000 Hz and picks up the raw sound echoing in space.
Excellent Sound Quality
Newly developed small diaphragm microphone capsule with Omni-directional characteristics realizes clear and transparent sound in ambient and instrument recording.
Noise Elimination Construction
Two-part metallic body structure originally employed in the C-800G microphone prevents acoustic vibration resulting in low noise and clear sound.
Flat and Wide Frequency Response
The ECM-100N microphone has flat and wide frequency response (20 Hz to 50kHz) and provides superb sound reproduction quality for High-Resolution Audio.
Low-Cut Filter
Low-Cut filter switch helps eliminate low-frequency noise and proximity effect.
Pad Switch
An -10dB pad switch on the ECM-100N microphone provides added headroom and minimizes distortion caused by transient peaks.
Audio Section
Capsule Type:Electret Condenser
Frequency Response: 20 Hz to 50 kHz
Directivity: Omni directional
Sensitivity *[1]: -36 dB
Output Impedance *[2]: 100Ω±15%, Balanced
Dynamic Range: 124 dB or more
Signal-to-Noise Ratio *[3]: 73 dB or more
Inherent Noise *[4]: 21 dB SPL or less
Maximum Input Sound Pressure Level *[5]: 145 dB SPL
General Section
Connector: XLR-3-12C (male)
Mic Cable: XLR 3-pin Cable Required (Not Supplied)
Power Requirements: DC 44 to 52 V
Dimensions *[6]: 19dia.×130mm (0.75dia.×5.12in.)
Mass: Approx. 130g (4.6oz.)
Supplied Accessories: Mic holder (1), Wind screen (1), Stand screw adaptor (W3/8 to NS5/8) (1), Operating instructions (1), Carrying case (1)
Notes
*[1] 0 dB = 1 V/Pa, at 1 kHz
*[2] Output impedance at 1 kHz
*[3] A-weighted, 1 kHz, 1 Pa.
*[4] 0dB SPL = 20μPa.
*[5] 0 dB SPL = 20μPa.
*[6] The values for dimensions are approximate.