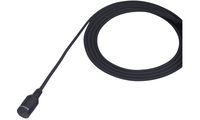 SONY ECM-44BMP Omni-Directional Lapel Microphone for Use with WRT-805
Sony has produced over five million professional ECM (Electret Condenser Microphones) microphones and the ECM-44 is the affordable, general voice model. It provides good sound quality and is widely used in business presentation systems and TV production. The ECM-44 is available in four versions, featuring different connector types. This model, ECM-44BMP, has a 3.5mm locking jack for use with WRT-805 wireless transmitter.
Convenient to use
The ECM-44 is an affordable alternative to the traditional hand held microphone and being 'hands free' it allows the presenter to concentrate on her/his performance
Professional image
Either 'in front of camera' or at a business presentation the ECM-44 creates a professional and tidy image.
Easy to use
It can often be difficult to achieve good quality voice pick-up but the ECM-44 can help get good results. The microphone's capsule is designed for general voice pick-up with a mid-frequency emphasis characteristic and a suitable frequency response.
FEATURES
Tuned for voice pick-up - The ECM-44's capsule features an emphasis curve and a suitable frequency response for voice pick-up.
Compact size - The capsule has a diameter of only 8.5mm and is 14.5mm long.
Ready for wireless systems - The ECM-44BMP is compatible with the Sony Freedom WRT-805 wireless transmitter.

SPECIFICATIONS

Audio Section
Capsule Type: Electret Condenser
Frequency Response: 40 Hz to 15 kHz
Directivity: Omni-directional
Sensitivity *[1]: -40.0 dB (10 mV)
Output Impedance *[2]: 2.5kΩ±30%, Unbalanced
Dynamic Range: 90 dB or more
Signal-to-Noise Ratio *[3]: 62 dB or more
Inherent Noise *[4]: 32dB SPL or less
Induction Noise From External Magnetic Field *[5]: 5 dB SPL or less
Wind Noise *[6]: 40 dB SPL or less (with windscreen)
Maximum Input Sound Pressure Level *[7]: 122 dB SPL
General Section
Connector: BMP type. Supplied with o3.5 mm, 3-pole mini plug.
Mic Cable: 3.9 feet, 1.2 m
Power Requirements: DC 1.1 V to 10.0V
Power Consumption: 0.4 mA or less
Dimensions *[8]: φ8.5 x 14.5 mm (Mic head), φ11/32 x 19/32 inches (Mic head)
Mass: Approx. 18 g, Approx. 0.6 oz
Supplied Accessories: Urethane type windscreen (1), Single/horisontal type tie clip (1), Operating instructions (1), Mic case (1)
Optional Accessories: Wind screen pack, Horizontal single-clip pack
Notes
*[1] 0 dB = 1 V/Pa, at 1 kHz
*[2] Output impedance at 1 kHz
*[3] A-weighted, 1 kHz, 1 Pa.
*[4] 0dB SPL = 20? Pa.
*[5] dB SPL/1E-7 T, 0 dB SPL = 20? Pa.
*[6] Wind noise at 2m/s (0 dB SPL = 20?Pa.)
*[7] 0 dB SPL = 20? Pa.
*[8] The values for dimensions are approximate.