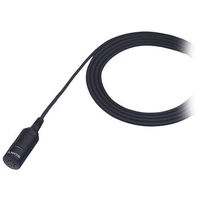 SONY ECM-66B Miniature Cardioid Directional Lapel Electret Condenser Microphone
The ECM-66B miniature, lapel microphone is suitable for voice and musical instrument pick-up in noisy environments. The cardioid polar response allows the microphone to be positioned for picking up the sound source while rejecting background noises. It is supplied with a integral power barrel and it is terminated with an XLR connector.
Hands Free microphone
As a lapel microphone, the ECM-66B is an alternative to the traditional hand held microphone and being 'hands free' it allows the presenter to concentrate on her/his performance.
Simple to use in public address systems.
As a cardioid polar response microphone, the ECM-66B can help to reduce the potential problem of microphone 'howl round'. The alternative omni-directional microphones are more prone to creating audio feedback loops.
Versatile performance
The ECM-66B has an extended frequency response and high SPL handling, making it highly versatile.
FEATURES
Designed for a wide range of audio sources - The ECM-66B's capsule features an extended frequency response and it can handle high SPL signals.
Ready for wired applications - The ECM-66B is the wired microphone version with an XLR output and integral power supply barrel. It can either be powered by the external microphone amp or an internal battery (LR6/AA size).
Compact size - The capsule has a diameter of only 10.6mm and is 24mm long, making it easy to conceal.

 
SPECIFICATIONS

Audio Section
Capsule Type: Electret Condenser
Frequency Response: 70 Hz to 14 kHz
Directivity: Uni-directional
Sensitivity *[1]: -50.0 dB ±2 dB
Output Impedance *[2]: 100Ω±20%, Balanced
Dynamic Range: 101 dB or more
Signal-to-Noise Ratio *[3]: 65 dB or more
Inherent Noise *[4]: 29 dB SPL or less
Induction Noise From External Magnetic Field *[5]: 5 dB SPL or less
Wind Noise *[6]: 50 dB SPL or less (with windscreen)
Maximum Input Sound Pressure Level *[7]: 130 dB SPL
General Section
Connector: B type. Supplied with XLR-3-12C (male) connector in power supply unit (single AA size battery)
Mic Cable: 9.8 feet, 3 m
Power Requirements: DC 1.5 V (AA size battery) or +48 V phantom power
Battery Operating Time: Approx. 400 h (LR6)
Power Consumption: Internal battery: 3.0 mA or less, External battery: 2 mA or less
Dimensions *[8]: φ7/16 X 31/32 inches (Mic head), φ20.0 X 163 mm (Power unit XLR type), φ13/16 X 6 1/2 inches (Power unit XLR type), φ10.6 X 24.2 mm (Mic head)
Mass: Approx. 5.9 oz (with power supply unit), Approx. 167 g (with power supply unit)
Supplied Accessories: Urethane type windscreen (1), Single/vertical type tie clip (1), Single/horisontal type tie clip (1), Operating instructions (1), Mic case (1)
Optional Accessories: Wind screen pack, Horizontal single-clip pack
Notes
*[1] 0 dB = 1 V/Pa, at 1 kHz
*[2] Output impedance at 1 kHz
*[3] A-weighted, 1 kHz, 1 Pa.
*[4] 0dB SPL = 20? Pa.
*[5] dB SPL/1E-7 T, 0 dB SPL = 20? Pa.
*[6] Wind noise at 2m/s (0 dB SPL = 20?Pa.)
*[7] 0 dB SPL = 20? Pa.
*[8] The values for dimensions are approximate.