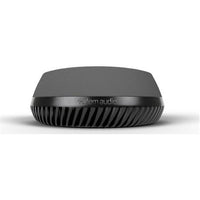 STEM AUDIO TABLE Conference Room Speakerphone
Part of the Stem Audio ecosystem for conference rooms, the Stem Table is a low-profile speakerphone that sits on a table or desk. It connects to your local network with PoE (Power over Ethernet) or to a computer in meeting rooms, collaboration areas, huddle rooms, or even in unequipped conferencing spaces. It combines high-level audio pickup with state-of-the-art sound quality to enhance the conferencing experience for all participants.
The Stem Table is compatible with all your favorite video conferencing platforms including Zoom, Microsoft Teams, Meet, and others. It is also Alexa-enabled.
The Stem Table is optimized for tabletops and flat surfaces. It features nine beamforming microphones located on the top of the device and a downward-pointing speaker on the bottom. This design ensures that the speaker and mics are separated to improve speech intelligibility.
The beamforming microphones feature voice-activity detection and automatic tracking of the person speaking to accurately capture speech within a 10-foot radius. Automatic gain control adjusts the volume of people close to and far from the microphones, while adaptive echo cancellation, de-reverberation, and background noise reduction ensure comfortable communication, free from distracting sounds. The full-range speaker provides clear audio and high-output volume.
The unit comes with a Kensington lock so you can keep it secure in your conference room.
SETUP OPTIONS
Standalone Setup with Network
Using an Ethernet cable, connect the device to your local network that supports PoE+. 
Note: If your network does not support PoE+, you must also use a separate PoE+ injector or PoE+ enabled switch to provide power to the unit.
Standalone Setup with Computer
If you need video conferencing capabilities, use the included USB Type-B cable to connect the device to your macOS/Windows/Linux computer.
Note: You must also use a separate PoE+ injector or PoE+ enabled switch to provide power to the unit.
Networked Setup with Multiple Stem Ecosystem Devices in the Room
Follow the same instruction as with standalone setup with network.
When setting up multiple Stem devices in a room, you must use a Stem Audio Hub (available separately) as all communications between the devices and the far end are done through the Hub.