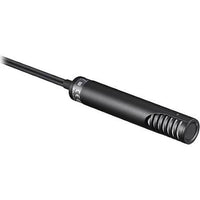 SONY ECM-MS2 Compact Electret Condenser Microphone
Affordable compact stereo microphone, ideal for mounting on professional compact camcorders
The ECM-MS2 compact Electret condenser microphone is designed to work with handheld camcorders. The compact 137mm length prevents the microphone inadvertently appearing in view and makes it easier to transport.
The ECM-MS2 offers both stereo and mono operation, increasing the versatility of the microphone. It allows, for example, for one channel to record environmental sounds, while the second channel is used for a second microphone to record voice. This makes the microphone very well suited to applications such as news gathering and documentary shooting on location.
FEATURES
Compact lightweight design ideal for use with handheld camcorders
The compact 137mm length of the ECM-MS2 prevents inadvertent vignetting of the microphone in the view when it is attached to a handheld professional camcorder. The short length is also convenient for packing and transporting the microphone with a compact camcorder.
Stereo and mono operation
The ECM-MS2 offers mono operation when stereo is not required, simply by cutting off the power supply to the right channel. This capability is useful for recording environmental sounds with one channel, while the other channel is being used with an additional wireless microphone system.
Professional quality sound reproduction
The ECM-MS2 delivers professional-quality natural sound reproduction. It has a frequency response of 80 Hz to 20 kHz (stereo) and 70 Hz to 20 kHz (mono), excellent sensitivity of -32 dB (stereo) and -36 dB (mono), and an inherent noise level of less than 25 dB SPL.
Metal body reduces external noise
The microphone's metal body enhances audio performance by blocking vibration, resonance, and RF noises.
External DC (40 to 52 V) operation
The ECM-MS2 provides an electronically balanced output operation on 48 V standard external power.
Original windscreen protects from contact noise
The supplied "feather boa like" windscreen suppresses the strong wind noise typical of harsh-climate operating conditions.
Cable tie for bundling and fastening the microphone cable
A cable tie is supplied to fasten the unplugged microphone cable during mono operation.

SPECIFICATIONS

General
Type: Back electret condenser microphone
Stereo type: MS (Mid-Side) stereo microphone
Power supply: External power supply 40 V to 52 V, DC (IEC 61938 P48)
Power consumption: Stereo: 3 mA or less x 2Ch, Monaural: 3 mA or less
Output connector: Cannon XLR-3-12C type x2
Dimensions: 24 dia. x 137 mm (31/32 dia. x 5 1/2 in.)
Mass: Approx. 160 g (5.6 oz.)
Supplied accessories: Wind screen (1), Cable tie (1), Operating instructions (1), Warranty booklet (1)
Performance
Frequency response: Stereo: 80 Hz to 20,000 Hz, Monaural: 70 Hz to 20,000 Hz
Directivity: Uni-directional
Output impedance: 30 Ω ±20%, balanced
Sensitivity (deviation ±3 dB): Stereo: -32 dB, Monaural: -36 dB
Signal-to-noise ratio: 69 dB or more (IEC 179 A-weighted, 1 kHz, 1 Pa)
Inherent noise: 25 dB SPL or less
Wind noise: 45 dB SPL or less (with wind screen), 65 dB SPL or less (without wind screen)
Induction noise from external magnetic field: 0 dB SPL/1 x 10-7 T (1 mG) or less
Maximum input sound pressure level: 125 dB SPL or more (input level for 1% waveform distortion at 1 kHz, converted into equivalent input sound pressure level)
Dynamic range: 100 dB or more
Operating temperature: 0 °C to 50 °C (32 °F to 122 °F)
Storage temperature: -20 °C to +60 °C (-4 °F to +140 °F)
1) 0 dB=1 V/Pa, 1 kHz
2) 0 dB SPL=2x10-5 Pa