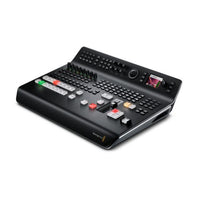 BLACKMAGIC SWATEMTVSTU/PROHD ATEM Television Studio Pro HD
Designed for broadcasters and A/V professionals, Blackmagic Design's ATEM Television Studio Pro HD Live Production Switcher is an 8-input live production switcher with integrated control panel. Four of each HDMI and SDI inputs are available on the rear of the chassis, with both sets of inputs supporting SD and HD resolution from both professional and consumer cameras. The relatively small chassis fits in a standard equipment rack, allowing it to be installed on a sliding rack shelf or packed into a "fly-away-kit" for use on location.
The control surface is replete with control buttons, knobs, and a fader bar. All this enables selecting camera inputs and controlling transitions, keyers, settings, and the DVE. Inputs and outputs are located on the rear of the unit. PGM output is available via SDI while multiview can be sent via SDI or HDMI. An AUX output lets you send video to an external display, which is great for live events with a projection setup. Four of the SDI outputs have embedded talkback audio for studio setups. 
Connections
Total Video Inputs
8
Total Outputs
8
Total Aux Outputs
1
SDI Rates
270Mb, 1.5G, 3G.
Total Audio Inputs
2 x XLR.
Total Audio Outputs
1 x Headphone.
SDI Video Input
4 x 10-bit SD/HD switchable. 2 channel embedded audio.
HDMI Video Inputs
4 x HDMI type A, 10-bit SD/HD switchable. 2 channel embedded audio.
Reference Inputs
Tri-Sync or Black Burst.
Video Input Re‑Sync
On all 8 inputs.
SDI Program Outputs
5 x 10-bit SD/HD switchable.
SDI Audio Outputs
2 Ch embedded into SDI output.
Total Multi Views
1
SDI Multi View Outputs
1
HDMI Multi View Outputs
1
Standards
SD Video Standards
525i59.94 NTSC 4:3 or 16:9, 625i50 PAL 4:3 or 16:9
HD Video Standards
720p50, 720p59.94, 1080p23.98, 1080p24, 1080p25, 1080p29.97, 1080p50, 1080p59.94, 1080i50, 1080i59.94
Ultra HD Video Standards
None
SDI Compliance
SMPTE 259M, 292M and 424M.
Video Sampling
4:2:2 10‑bit
Color Precision
4:2:2 10‑bit
Color Space
4:2:2 YUV
HDMI Input Resolutions for Computers
720 x 480i 59.94Hz, 720 x 576i 50Hz, 1280 x 720p 59.94Hz 50Hz and 1920 x 1080p 23.98, 24, 25, 29.97,30, 50, 59.94 and 1920 x1080i 50 and 59.94Hz 60Hz.
Colorspace Conversion
Hardware based real time.
Processing Delay
6 Lines.
Audio Mixer
10 input x 2 channel mixer.
Selectable On/Off/Audio-Follow-Video per channel plus separate gain control per channel.
Level and Peak metering.
Master gain control. Headphone output level control with separate mix of Program, Talkback and Sidetone.
Product Specifics
Upstream Keyers
1 with Chroma/Linear/Luma key.
Downstream Keyers
2
Chroma Keyers
1
Linear/Luma Keyers
3
Talkback Support
Built in, uses aviation headset.
Mix Minus Support
Yes, on 4 camera PGM outputs.
Transition Keyer (Stinger/DVE)
DVE only.
Total Number of Layers
5
Pattern Generators
2
Color Generators
2
DVE with 3D Borders & Drop Shadow
1
Interface
Minimum monitor resolution of 1366 x 768.
Number of Windows
1 x 10
Routable Windows
8 routable and 2 fixed for Program and Preview.
Tally
Red for program and green for preview indication.
Tally Output
Added via ethernet connection to Blackmagic Design GPI and Tally Interface product. (Not included)
Windows Source Labels
Yes.
Multi View Monitoring
Multi View Monitoring
1 x 10 Views.
Multi View Video Standard
HD
Media Player
Media Players
2, with non volatile flash memory.
Channels
Fill and key for each Media Player.
Media Pool Still Image Capacity
20 with fill and key.
Media Pool Still Image Format
PNG, TGA, BMP, GIF, JPEG and TIFF.
Control
Control Panel
Built in with camera control. Software panel included. Supports optional broadcast panel.
Control Panel Compatibilty
Compatible with ATEM 1 M/E Advanced Panel, ATEM 2 M/E Advanced Panel and ATEM 4 M/E Advanced Panel. Includes ATEM Software Control Panel.
Control Panel Included
ATEM Software Control Panel included free for Mac 10.11 El Capitan, Mac 10.12 Sierra or later and Windows 8.1 64-bit or Windows 10 64‑bit.
Software
Software Updates
Using USB connection directly connected to Mac or Windows computers. Includes ATEM Setup Utility.
Configuration
Set via ATEM Software Control Panel, excluding ATEM chassis IP address which is set via the ATEM Setup Utility connected via USB to chassis.
Power Requirements
Power Supply
1 x Internal 100 - 240V AC. 4 pin 12V DC.
Power Usage
40W
Physical Specifications
Environmental Specifications
Operating Temperature:
5° C to 40° C
Storage Temperature:
-20° to 60° C (-4° to 140° F)
Relative Humidity:
0% to 90% non‑condensing
What's Included
ATEM Television Studio Pro HD
SD card with software and manual
Warranty
12 Months Limited Manufacturer's Warranty.
Repair policy
Warranty details can be found in the ATEM Switchers Operation Manual in the support page at www.blackmagicdesign.com.