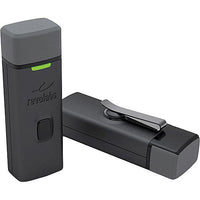 YAMAHA 01-HDEXEMIC-AES HD MaxSecure Wearable Wireless Microphone
The Revolabs HD MaxSecure Wearable Wireless Microphone is designed for use with desktop applications, audio and video conferencing, and more. It sports a sleek and compact design, with a convenient rotating clip, suitable for attaching to a lapel or shirt.
For desktop applications such as Skype, speech recognition, podcasting, Web conferencing, and lecture capture, this lightweight, wearable microphone provides an user with good PC audio while allowing him to move away from the computer without the need to wear a headset or bulky transmitter. Compatible with the entire Revolabs product line, these wearable microphones can also be used for voice amplification and are exclusive to the HD line of products.
Unobtrusive - With a compact and lightweight design, these wireless microphones are comfortable to wear
Convenience - A rotating clip makes them simple to attach to a shirt or jacket
Sleek Design - Offers a modern look to compliment any environment
PC Audio - Suitable for desktop applications such as Skype and lecture capture
Flexibility - Can be used with all HD wireless microphone systems to accommodate the needs of different applications; switching systems is as easy as pressing 2 buttons to pair a microphone to the receiver
Fool-Proof Operation - Offers one-button simplicity and automatic frequency changes to avoid interference
No GSM Interference - Impervious to GSM noise from other wireless electronic devices
Rechargeable - Provides up to 8 hours of talk time and saves the expense of battery replacement
Utilizes DECT Protocol - Protected against future radio frequency changes
Crystal-Clear Audio - Be heard with good audio quality
The Freedom of Wireless - Cut the cord for natural mobility while maintaining the highest audio quality