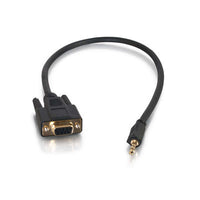 CABLES TO GO 02445 1.5ft Velocity™ DB9 Female to 3.5mm Male Adapter Cable
Why run all new cables for RS-232 control of your audio/video system, when you can use this easy adapter? The Velocity RS-232 adapter leverages your DB9 or 3.5mm stereo audio cable to run 3-conductor RS-232 control signals between your control unit and your video display. Fully molded DB9 and 3.5mm connectors provide excellent strain relief. This adapter is ideal for use with computers, projectors, and any control unit/display requiring 3-conductor RS-232 serial control.
Connector 1: DB9 Female
Connector 2: 3.5mm Male
Please Note: Not all serial control methods are supported by this adapter. This product is intended only for use with 3-wire RS-232 control cables with common ground (pin 5), transmit data (pin 3), and receive data (pin 2). For the exact pinout of your audio/video equipment, please contact your RapidRun sales representative for assistance, or call customer service at 1-800-506-9607.