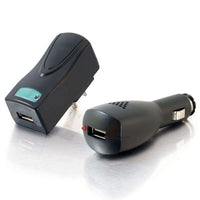 CABLES TO GO 22330 AC and DC to USB Travel Charger Bundle
AC to USB adapter: The USB charging cable for your cellphone or PDA is great - it charges quickly while you are at your computer. But what happens when you are away from your computer?

Our AC adapter charges your devices with your USB cable no matter where you are. Plug the adapter into any 110 Volt AC outlet and begin charging. In no time, you'll fully charge your cellphone or PDA battery.

It auto-adjusts to voltage and frequencies worldwide; plus the LED indicates when properly charging. The adapter's lightweight design makes it easy for travel, and far easier to carry than that heavy "power brick" that came with your device!

DC to USB adapter: How many times have you been on the road and your cellphone or PDA is "out of juice"? Never be caught with low batteries again! This DC power adapter will charge these devices while you're driving your car; just plug your USB cable into this adapter, and then into any standard car cigarette lighter. In no time, you can fully charge your cellphone or PDA battery; the LED indicates when it's properly charging. It's a real lifesaver when you're on the road.

Please Note: These products are not compatible with Apple iPhone® or iPad® devices, but they do work with iPod® Shuffle.