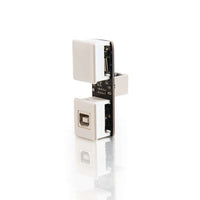 CABLES TO GO 29349 USB Keystone Extender Insert - Transmitter
One component of a complete solution that, when paired with a receiver (sold separately), conquers USB length limits. This patent-pending solution extends the signal of a USB device to a host computer up to 150 feet, enabling you to place your USB projector, interactive whiteboard, camera, printer, hub or other USB device exactly where you want it! Our USB superbooster keystone insert is powerful yet simple, with no drivers to install or special software required. It's also compatible with any computer that supports USB.
This plug-and-play device has a snap-in keystone type transmitter unit that works in conjunction with Cables To Go wall plates with removable keystone bezels. The insert will
not
work with fixed bezels or surface mount boxes. The overall plug-and-play solution consists of this keystone insert, and your choice of a compatible receiver that is sold separately: the 1-port dongle (#29350 or #29353), the 2-port Decora®-compatible wall plate (#29345), the 2-port dongle (#29346) or the 4-port dongle (#29347). Customize the configuration to your specific needs!
The complete solution is connected via a standard Cat5, Cat5E, or Cat6 UTP cable (not included) that provides easy in-wall installation. This delivers a clean, finished look important for homes, classrooms, offices and anywhere you don't want visible cables lying around. Use pre-terminated network cables, or pull unterminated. Because the USB keystone insert is bus-powered, no external power source is required.
Compliant with USB specification 1.1.Input:
One USB Type B Female
Output:
One RJ45 Female
Please Note:
The power demands of devices such as electronic whiteboards, external drives and USB hubs, may require the use of external power for proper operation. Please consult with your device manual or manufacturer for details. Decora® is a registered trademark of Leviton Manufacturing Company, Inc. This product is not manufactured or endorsed by the Leviton Manufacturing Company, Inc.