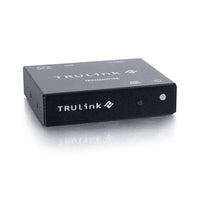 CABLES TO GO 29362 TruLink® VGA over Cat5 Box Transmitter
The VGA over Cat5 Box Transmitter, when used in conjunction with a receiver (29361 or 29363 - NOT INCLUDED), allows you to extend a VGA signal over a Cat5/Cat5e/Cat6 unshielded twisted pair cable up to 300ft without signal degradation at 1920x1200 or 1920x1080 resolutions. This solution is compatible with any operating system and is truly plug and play with no drivers or software required. The transmitter and receiver come in either wall plate or box form factors and are interoperable allowing you to choose the form factors that are best suited for the application. In addition, this solution utilizes phantom power providing you the flexibility to power at either the transmitter or receiver end.
The EDID copy feature ensures compatibility with any monitor. Built-In power surge protection and high ground loop immunity ensure high performance signal extension.
*Longer distances can be achieved at lower resolutions
Input:One HD15 Female
Output:One RJ45 Female