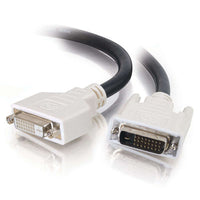 CABLES TO GO 29530 5m DVI-D™ M/F Dual Link Digital Video Extension Cable (16.4ft)
This precision-engineered cable is fully compliant with the DVI standard defined by DDWG (Digital Display Working Group). The DVI-D dual link configuration provides enough bandwidth for resolutions up to 2560x1600 pixels and allows high speed digital video transmission up to 9.9 Gbps. 28 AWG copper conductors are individually insulated in foam-polypropylene to minimize crosstalk, and ensure high-speed, error-free transmission.

Tri-shielded undermold and braid shield protects against unwanted EMI/RFI interference. Gold-plated contacts provide full conductivity with no data loss. PC and Mac compatible cable supports hot-plugging of DVI display devices. PC-99 color-coded: white

Connector 1: DVI-D Dual-Link 24-pin Male
Connector 2: DVI-D Dual-Link 24-pin Female

Please Note: Does not support analog video; only supports digital video signal.