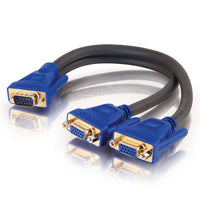 CABLES TO GO 29610 Ultima™ One HD15 Male to Two HD15 Female SXGA Monitor Y-Cable
The Ultima SXGA cable optimizes style, quality, and value in a cable specially designed for high performance. This y-cable splits the VGA signal to provide simultaneous display of the same picture. It is constructed from 3 individually-shielded 75 Ohm coax and 4 twisted pair cable to minimize crosstalk, noise, and other EMI/RFI interference.
An aluminum undermold shield assists in reducing interference to meet FCC requirements, while a 360° solder-to-connector shell and cable braid create an end-to-end shielding solution for a noise-free connection.
24k gold-plated connectors provide maximum corrosion resistance for error-free data transfer. The charcoal gray cable jacket not only matches your case but disappears behind your desk leaving a clean organized look. The sleek design of the molded connectors makes them easy to grip. Finally, an ultra-flexible jacket and oversized thumbscrews make installation easy.
Connector 1:
One HD15 Male
Connector 2:
Two HD15 Female
Please Note:
UXGA provides a screen resolution of 1600 x 1200 pixels. Not sure what resolution you need? See our
VGA resolution guide.