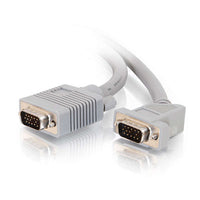 CABLES TO GO 35010 1ft Premium Shielded HD15 SXGA M/M Monitor Cable with 45° Angled Male Connect
Gain maximum flexibility in positioning your monitor with this angled connector cable. The 45° connector on one end of the cable allows installation in even the tightest locations. This premium VGA cable is ideal for video presentation devices, video splitters, and KVM switches. Constructed from premium grade video cable, it uses a combination of coax and twisted pair to accommodate cable runs up to 100 feet away without a booster (in most cases), and without the typical distortion problems associated with extended length cabling runs.

SXGA provides a screen resolution of 1280 x 1024 pixels.

Connector 1:HD15 Male
Connector 2:HD15 45° Male

Please Note: Pin 9 is not loaded. Pin 9 is not required for standard computer video applications.