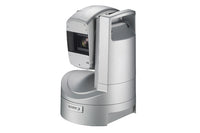 CANON 6143B003 Evercam XU-81 High Definition PTZ Camera
As the worldwide transition to HD imaging continues to accelerate, many video content creators-including broadcasters, cable networks, Houses of Worship, and diverse businesses-are seeking cost-effective, turnkey, remotely-controllable Pan-Tilt-Zoom HD camera systems to provide unique visual perspectives while ensuring high image quality of the production.

To meet these disparate needs, Canon has harnessed multiple advanced technologies and its experience in HD optics and robotics to produce a more cost-effective, integrated HD PTZ Camera System offering exceptional picture quality. The XU-81 is a versatile indoor/outdoor single-CMOS camera system, featuring a high waterproof and dustproof design which, when combined with its compact size, makes it ideal for: Outdoor Event Broadcasting, Weather POV, Traffic POV, Outdoor Monitoring, Indoor Event Broadcasting, House of Worship, Education, and Video Conference.

Building on the success of the BU-51H (Indoor) and BU-46H (Outdoor) HD PTZ Camera Systems for higher-end applications, the XU-81 is optimized for both environments while providing economies of scale, and incorporating the same control protocol as its sibling products, offering flexible systemization options within a given location.

FEATURES
High Quality HDTV/SDTV Video Images
The XU-81 has a single 1/3-inch CMOS imaging sensor with 2.1 Megapixels. Utilizing a Canon 20x HD Zoom Lens, it captures exceptional, high-quality images in full-HDTV format. Dynamic Range Compensation allows for shooting in environments with a high contrast of light and shade (such as a building lobby on a sunny day) by automatically correcting the contrast of the video according to the range of scene illumination.


Optimized Design for Broadcast Applications
The XU-81 incorporates high operability optimized for broadcast applications. By pressing a single pre-set button on operation panel (provided optionally), the camera head pans and tilts very smoothly while simultaneously zooming, allowing for on-air movements similar to manually-operated cameras. Also, the XU-81 utilizes HD-SDI output, the standard in the broadcast market, which enables it to acquire beautiful, important images from a distance of up to 100m.


Waterproof and Dustproof for Indoor / Outdoor Applications
With a waterproof and dustproof design featuring an IP55 enclosure rating, the XU-81 can be installed in challenging locations and is not affected by environmental conditions.


Fast, Quiet, and Precise Pan & Tilt Movements
The XU-81 is an exceptional PTZ camera which combines smooth, fast, and highly precise movement. In Normal Mode, operational movement has a noise rating of NC<30, making it extremely suitable for quiet indoor environments. In High Speed Mode, the movements of the pan-tilt mechanism are accelerated by 50%, which is valuable in circumstances where higher speed is required.


Upright/Inverted Mounting Option
The XU-81 can be mounted upright or inverted (ceiling mount). In either position, the picture image will automatically flip when the tilt angle reaches 90°.


Compact Size and Weight
The XU-81 includes a handle for convenient portability, and weighs only 14.5 lbs/6.6 kg, making setup almost effortless.


Locally Switchable Output/Control
Users have the ability to select either the 1080i or 720p HD output to match their existing systems. Additionally, control can be toggled between RS-232 and RS-422, making the XU-81 extremely adaptable to new and existing multi-camera environments.


Low-light Capability/Night Mode
When shooting under low-light conditions, the XU-81 can acquire extra brightness by using the slow-shutter function (frame accumulation). The black & white mode without the IR cut filter will also support shooting in near-darkness.

SPECIFICATIONS

Pan-Til Section:
Operation Condition: Indoors / Outdoors
Operation Angle: Pan: ±180° Tilt: +220°~-40°
Operation Speed: Pan/Tilt: 0.3~40°/ sec (normal speed mode); Pan/Tilt: 0.3~60°/ sec (high speed mode)
Preset Position: 128
Stationary accuracy: ±10' below
Video Output: HD: BNC (HD-SDI), SD: BNC (Composite Monitor)
GENLOCK Input: BNC (BB Sync/HD3value Sync)
Picture Flip Function: Flip: ON/OFF
Control Interface: D-sub9 (RS-232) ×1, 6pin(RS-422) ×1
Operating Temperature: Ambient -15~40°C / ~90% (non-condensing)
Control Protocol: NU Protocol
Communication Speed: 9,600bps
Microphone: Waterproof Microphone: lower part of the camera /0dBm/600 unbalanced output (with limiter)
Noise: NC30 (40°/s), NC45 (60°/s) (when Wiper, ND Filter, and IRC Filter are not in operation)
Power Source: DC12V±10%
Power Consumption: 20W
Size (W×H×D): 217×311×217[mm] (without projection)
Weight: 6.6kg (without ND Filter and Wiper)
HD-SDI Format: 1080/59.94i / 1080/50i / 720/59.94p / 720/50p
SD Format: NTSC/PAL (linked with the HD-SDI output)
GENLOCK: Internal/External, Auto Switching
Waterproof/Dustproof Rating: IP55
Wind-Velocity-Resistance: Normal Operation: ~15m/s; Operation Possible: ~30m/s; Non Destruction: ~60m/s
Optional Outdoor Installation: Washer

Camera & Lens:
Image Sensor: 1/3CMOS
Focal Length / F-No.: f=4.7-94mm / F1.6-3.5
Minimum Object Distance: 1m (at Tele End)
Angle of View: W59.4° - T3.0° (1920×1080)
Zoom Ratio: 20x
Digital Zoom: 12x
Focusing System: AUTO/MANUAL/INF
Shutter Speed: 2sec~1/10,000sec
Gain: AUTO/MANU (0~+32dB)
White Balance: AUTO/OUTDOOR/INDOOR/MANU/ATW
ND Filter: OFF/1/32
Mounting Options: Upright/Inverted
AE Control: AUTO/MANU/NIGHT/Shutter priority/ Aperture priority
ICR: ON/OFF