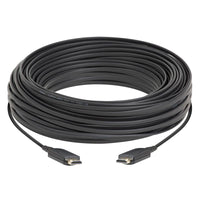 DATAVIDEO CB-61 HDMI Active Optical Cable - 50M
CB-61 is an HDMI Active Optical Cable (AOC) with high performance, low power consumption and low cost.

Using Optical Fiber to replace traditional copper wire enables longer cable runs to transmit 4K@60Hz UltraHD image up to 100 meters.

Compared with the traditional copper wire, the cable is much longer, slimmer with better signal quality and also EMI/EMC compliant.

The cable does not require an external power supply.


50M - HDMI Active Optical Cable
Long distance transmission of up to 100 meters
Support 4K@60Hz UHD display
Supports HDMI 2.0
Supports HDCP 2.2
Plug and play, not driver dependent
Thinner, lighter and softer than conventional copper cable
EMI / RFI compliant
No external power needed