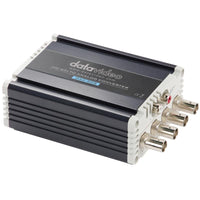 DATAVIDEO DAC-50S SDI to Analog Converter
The DAC-50S converts 3G/HD-SDI video to one of the following analogue outputs:
1 x component (YUV) output & 1 x composite (CV) output including stereo audio
1 x S-Video (Y/C) output & 2 x composite (CV) outputs including stereo audio

The outputs can be easily connected to an analogue video monitor or deck devices such as BataCAM and VHS.

The DAC-50S down scales the signal for the analogue output.

The DAC-50S also provides an SDI Loop-thru output.

It further outputs one pair of analogue audio channels selected from 16 de-embedded SDI audio channels (Selection is determined by DIP switch settings). The DAC-50S is housed in a rugged aluminum frame, making it durable enough to endure the roughest conditions.


Converts 3G/HD-SDI input to analogue video and 2 unbalance analogue audio channels
Two available output combinations: 1 x YUV output & 1 x CV output OR 1 x S-Video (Y/C) output & 2 x CV outputs
Supports PAL/ NTSC output
Define de-embedded audio channels sent to analogue audio outputs via a DIP switch
Solid aluminum housing
Ideal for use with RMK-2 (Rackmount kit) and also MB-4 Battery holder

IN THE BOX
1x DAC-50S product
1x AD Switch DC 12V