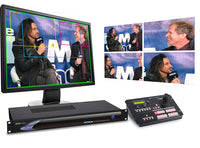 DATAVIDEO KMU-100C 4K Multicamera Processor and Controller
KMU-100C Bundle:
The KMU-100C bundle combines the KMU-100 4K Multicamera Processor and hardware control panel (RMC-185) to provide a unique 4K video production solution.


KMU-100:
Datavideo's all new KMU-100 is a unique 4K multi-camera production solution that delivers multiple virtual full HD (up to 1080p) scaled camera angles with minimal installation cost and simple operation. The basic concept is straightforward: The output of a single 4K/UHD camera is connected to KMU-100, which then displays up to four 16x9 user-defined cropped windows that are sent out as four separate HD signals through HD-SDI. These user defined windows can be scaled to zoom in on a particular subject that you would like to highlight on the 4K signal. As an option, the Datavideo RMC-185 controller can be added to easily pan, tilt, and zoom to create the user defined windows on the 4K signal. You can set up these shots in advance and save them as presets, or you can do it in real-time. For more information, visit the KMU-100 product page.


RMC-185:
The RMC-185 is a cost effective physical controller designed specifically for control of the KMU series 4K Multi-Camera Processor. The RMC-185 interfaces with the KMU-100 via an RS-422 interface. This dedicated controller allows operators to make smooth zoom and pan/tilt motions by using the joystick. 4 presets are available that hold scale, position, motion path and speed of all 4 individual 3Gb/s outputs, per channel. Buttons allow start/stop/reset of motion in a predefined speed of every individual output. For more information, visit the RMC-185 product page.