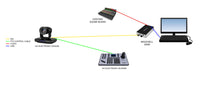 High Definition Video Live Stream System for Church - 1 Camera
Our Single Camera HD Video Live Stream System for House of Worship is an affordable solution offering live streaming and recording capabilities. The system can be used to live stream and/or record services, choir concerts, or guest speakers OR the package can be used with a video distribution system to feed video into other areas of the church hall or building.

PTZ Camera and PTZ Controller
The GOHD4K, coupled with the RCC6000 joystick controller, is the best value high definition color pan/tilt/zoom video camera. The GOHD4K, with multiple video outputs (3G-SDI, HDMI, IP, USB), offers 20X optical zoom, excellent low light sensitivity, large pan and tilt angles and the ability to be mounted upside down. For reference, with 20x zoom, you can zoom in and capture a head to waist shot at 50 feet away and a head to toe shot at 100 feet away.
USB Capture
You will use the Magewell USB Capture SDI Plus device to connect the camera and your existing sound system to your computer for recording and live streaming. The camera connects to the SDI input on the capture device via a coax cable with BNC connectors and audio from your existing sound board connects to the capture device via the 3.5mm analog audio input.
 Free Capture Express Software
Capture Express is a basic software for previewing, recording or streaming one input source offered by Magewell. Capture Express records one channel of video as mp4 files to your local storage. Users can customize the resolution, frame rate, bitrate and color space of the recording, or simply choose "match source" for easy setting. Capture Express uses H.264 encoding format for video compression. Users can also stream to Facebook/YouTube/Twitch servers. Capture Express also supports RTMP, SRT Caller, SRT listener, TS over UDP, TS over RTP and other live protocols. Users can manually add, edit and delete live stream servers.  Note, Capture Express is for Windows only. DOWNLOAD CAPTURE EXPRESS FOR FREE HERE.
Optional Wirecast Upgrade
For more sophisticated professional production features and more streaming and recording options, upgrade to Wirecast software. Wirecast is live streaming production software that allows you to cost-effectively create live or on-demand video broadcasts for the web. Wirecast supports unlimited input devices, including cameras, audio, graphics and more. With its user-friendly interface, you can polish your broadcasts by adding transitions, titles, watermark graphics, etc. Then you can stream live and/or record to your computer for archiving, DVD duplication or on-demand distribution.
BASE PACKAGE INCLUDES
One (1) GO ELECTRONIC GOHD4K high definition color pan/tilt/zoom video camera
One (1) RCC6000 remote control unit for the Go Electronic GOHD4K camera
One (1) 10 FT EVI CABLE for connecting the RCC6000 controller to the GOHD4K camera
One (1) 10 FT COAX CABLE for connecting the GOHD4K camera to the Magewell 32050 capture device
One (1) MAGEWELL 32050 SDI plus audio to USB capture device
One (1) MAGEWELL Capture Express software for Windows (FREE). CLICK HERE to download.
SYSTEM OPTIONS/ADD-ONS
OPTIONAL MOUNT FOR CAMERA:
MT400-W - White Wall Mount for GOHD4K
MT400-B - Black Wall Mount for GOHD4K

CABLE FOR CONNECTING CAMERA TO PTZ CONTROLLER
Available in lengths 10-200 ft

COAX CABLE FOR CONNECTING CAMERA TO CAPTURE DEVICE:
1694-B-B Belden 1694A HDTV RG6 BNC cable available in lengths 10-200 ft
OPTIONAL UPGRADE TO WIRECAST SOFTWARE
Wirecast Studio for Windows
Wirecast Studio for Mac
RESOURCES
Quick Start Guide for Sample Single Camera System:
QUICK START GUIDE