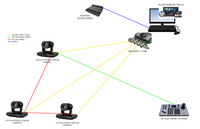 High Definition Video System for Church - Software-Based Switcher - 3 Cameras
Our three-camera high definition video system for a church with software-based switcher offers the ability to record, livestream and distribute in-house church services and facility functions. The three GOHD4K PTZ cameras mounted in the sanctuary capture services in high definition. The pan-tilt-zoom functions of the camera are controlled remotely (in the AV room) via the RCC6000 joystick controller. A single controller can control up to six cameras installed in a daisy-chain configuration. Specific camera positions can be preset with the controller making operation easier for church volunteers. Note, the RCC6000 controller does not have any video function. Video from the cameras must be previewed either via the computer monitor (to be discussed below) or via optional preview monitors.

In this system, the video switching function is performed by Wirecast software. The HD-SDI video signals are sent from each camera over coax cable (in a home-run configuration, not daisy-chain) to the church AV room where they are captured to a computer (Windows, not Mac) via the Magewell multi-channel PCIe capture card. Audio is captured from an existing sound board into Wirecast via the computer microphone input or an optional audio-to-USB device. Please note, our system does not include the required computer. This will need to be sourced elsewhere. However we do provide a link to the minimum system requirements for Wirecast. Within Wirecast, you can switch between cameras, select transitions and fades, add titles, lower third graphics and more. In addition to video from the cameras, you can also add computer screens as an alternate source via Wirecast's Desktop Presenter. This becomes useful if you want to incorporate scripture/lyrics in your broadcast.

Beyond live editing/production functions, with Wirecast you have the option to RECORD and/or LIVE STREAM and/or OUTPUT the broadcast for in-house distribution. Wirecast enables you to specify many output settings for your broadcast. You can configure Wirecast to broadcast multiple data rates simultaneously, or even stream and record with different encoders at the same time.

Wirecast is integrated with over 30 streaming destinations, such as Facebook Live, YouTube Live, Twitch, Microsoft Azure, DaCast, Churchstreaming.tv, Wowza, Hitbox and more. Streaming to these destinations is as easy as entering your username and password in Wirecast and getting automatically connected with your account. Note, this video system and Wirecast does NOT include a streaming services. A streaming service subscription/account must be set up separately.

When recording the broadcast, you select the destination (for example, save to a folder on the Wirecast computer or on an external hard drive) and the file format (MP4 or Windows Media, MOV). The recorded service can be uploaded to the internet for parishioners to view, burned to DVD and/or archived.

A Blackmagic playback device (such as the Decklink Mini Monitor) can be used to output the broadcast for live distribution to TVs or projectors in the church facility. The type of distribution system to be used would depend on the number of TVs you want to broadcast to and the location of the TVs (cable lengths required to reach the TVs). Church services can be viewed live in overflow rooms, cry rooms or nurseries, for example.

PRODUCTS IN SYSTEM:

GO ELECTRONIC GOHD4K
4K 3G-SDI/HDMI/IP/USB PTZ Camera with 20x Zoom
Note, camera must be powered near mounted location with included power supply.
MT400-W
Wall Mount for GOHD4K (white)
EVI CONTROL CABLE
Connects camera to RCC6000 joystick controller for PTZ control.
Available in lengths up to 200 ft.

EVI DS CABLE
Connects camera to camera in a daisy-chain configuration for PTZ control.
Available in lengths up to 200 ft.

GO ELECTRONIC RCC6000
Joystick Controller for Pan/Tilt/Zoom Cameras
Control up to six cameras in a daisy-chain configuration.

1694-B-B
Belden 1694A HDTV RG6 BNC Cable
Cable carries HD-SDI video from camera in lengths up to 200 ft.


MAGEWELL 11090
Pro Capture Quad SDI
Capture HD-SDI video from three high definition cameras
Requires available PCIe slot in computer.

TELESTREAM WC-PRO-W
Wirecast Pro Wirecast is an all-in-one software solution that enables the capture, live production, archiving and streaming of events. Wirecast supports an unlimited number of input devices including live camera feeds, audio, video, graphics and more. Capture video from multiple cameras to your PC using the appropriate capture device (in this case the MAGEWELL Pro Capture Quad SDI). Broadcast the desktop of the Wirecast computer or another computer during your webcasts (e.g., incorporate scpripture/lyrics in broadcast). With Wirecast's user-friendly interface, you can add transitions as you switch between cameras and add titles, watermarks and lower-third graphics to your broadcast. Eliminate the need for external preview monitors since you can preview video from all video sources simultaneously on your PC monitor via Wirecast. You have the options to stream live and/or save the broadcast to your PC (or external hard drive) for archiving or DVD duplication. You can also output the broadcast for distribution to in-house monitors.
The system does not include the computer needed to run Wirecast software. When selecting a computer to use for this system be sure to consider Wirecast's Minimum System Requirements
Download Wirecast Free Trial

OPTIONAL PROGRAM FEED OUTPUT
If you want to output the broadcast (video and audio) for live distribution to in-house TVs/monitors/projectors, you will need a Blackmagic playback device such as one of the options below.
BLACKMAGIC BDLKMINMON - Mini Monitor PCIe playback card offers an HDMI and SDI output with embedded audio.
BLACKMAGIC BINTSPRO4K - Intensity Pro 4K PCIe capture and playback card offers an HDMI with embedded audio output as well as a breakout cable with analog video and audio outputs.