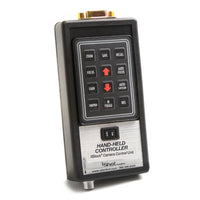 ISHOT EM18819 iShot XBlock Handheld Camera Controller for Sony FCB-EV, EH, SE, EX-E, EX-F Camera
The iShot XBlock Hand Held Camera Controller is designed to supply all that is needed to operate every camera function (i.e. zoom, iris, gain, freeze, etc.) for any Sony FCB-EV Series, Sony FCB-EH, FCB-EX F Series or FCB-EX E Series Color Block Camera integrated with an XBlock housing. Via a serial cable, the controller connects to the rear of an XBlock camera housing and uses the camera's RS-232 interface to communicate. The unit can be operated with a 9-volt Battery and DC power adapter included. The hand held controller does not supply power to the block module, so when used with the battery, the controller can be plugged and unplugged from the camera without having to shut down any devices.

iShot XBlock integrates the SD or HD Sony Block Cameras into indoor and outdoor XBlock housings intended for broadcast systems, surveillance and security systems, machine vision and robot vision, and XBlock housings offer a variety of environmental resistances (i.e. radiation, water, and temperature resistance). For any questions regarding integrated block Cameras, please call!

For use with HD Sony FCB-EV7500, FCB-EV7100, FCB-EV5500, FCB-EH6500, FCB-EH6300, FCB-EH3150, FCB-EH3410, and SE600 block cameras.

For use with SD Sony FCB-EX2700, FCB-EX2400, FCB-EX2200, FCB-EX1020, FCB-EX1010, FCB-EX995E, FCB-EX990D, FCB-EX985E, FCB-EX490E, FCB-EX48E, FCB-EX20D, and FCB-EX15E block cameras.


For use with HD Sony FCB-EV7500, FCB-EV7100, FCB-EV5500, FCB-EH6500, FCB-EH6300, FCB-EH3150, FCB-EH3410, and SE600 block cameras
For use with SD Sony FCB-EX2700, FCB-EX2400, FCB-EX2200, FCB-EX1020, FCB-EX1010, FCB-EX995E, FCB-EX990D, FCB-EX985E, FCB-EX490E, FCB-EX48E, FCB-EX20D, and FCB-EX15E block cameras
9-volt Battery and DC power adapter included
Unit Offers Basic Connector, Custom Connectors Available
Controls camera functions such as zoom, focus, iris, gain, and white balance