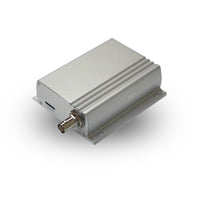 ISHOT EM19996 IONODES ION-E100 Single Input SD H.264 Video Encoder with PoE - BNC
The IONODES ION-E100 video encoder appliance is the ideal video encoding solution for high quality video surveillance applications.

High Quality Video Compression
Video is compressed to a high quality digital format and streamed in real-time over IP. Using the H.264 compression codec (MPEG4 Part 10), storage requirements can be reduced by over 50% when compared to a compliant MPEG4 SP codec. Motion JPEG compression profiles are also supported.

Triple-Encoding
The ION-E100's powerful video encoding engine can generate up to three different compression profiles per video input, allowing it to adapt to various streaming and recording environments.

Reliable
Video content can be streamed for recording on a centralized NVR system. Built-in micro-SD storage allows for maximum reliability in situations where loss of video due to network or other breakdowns is unacceptable, by offering local media buffering.

Secure
Built-in encryption capability enables support for encrypted data communication channels and secured administrative interfaces.

Power Over Ethernet
The installer-friendly ION-E100 is Powered over Ethernet (PoE) according to IEEE 802.3af, and can feed an analog camera with power (max 8 Watts total), which eliminates the need for power outlets.

Easy to Manage
The ION-E100's GUI-based web interface makes set-up and management of the appliance nearly effortless. In addition, integration of the ION-E100 into new or existing video management software is simple thanks to the intuitive ION API. The ION API exposes management and streaming functions through standard HTTP and RTSP interfaces and is supported by major NVR vendors such as Genetec and Milestone.

FEATURES
Benefit from broadcast quality video using H.264 compression at 4CIF 30 fps.
Save valuable storage space for your video archives by using H.264 compression.
Customize your live streaming and recording scenarios by creating up to three different compression profiles per video stream.
Ensure reliability through the use of built-in video buffering to micro-SD card.
Protect your data channels through SSL encryption.
Easily integrate the appliance into your existing video management solution through the ION API.
Onvif Profile S compliant

SPECIFICATIONS
Video: Single analog video input : NTSC or PAL (BNC)
Audio In: Single channel analog audio input (3.5mm)
Audio Out: Single channel analog audio output (3.5mm)
Network: 10/100 Base-T Ethernet port half/full duplex, auto-sensing, RJ-45
Alarm In: Two closure contacts (terminal bloc)
Relay Out: Single output relay contact (terminal bloc)
COM Port: Single serial port (RS422/485) (terminal bloc)
Video Codecs: H.264 Baseline, Main, High Profiles / MJPEG
Video Resolutions: QCIF to Full D1
Edge Recording: On motion, I/O trigger, VMS connection loss
Image Processing: Video deinterlacing, multi region video motion detection
Network API: ION API, Genetec API, PSIA, Onvif