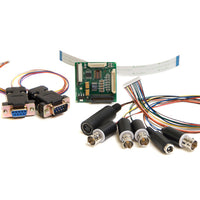 ISHOT EM49923 Shot XBlock HD Component OEM Evaluation Interface Board Kit for Sony Block Cameras
The High Definition Component OEM Evaluation kit allows for "Plug and Play" remote communication to the camera head using RS-232, 422 or 485 protocols. Comes complete with board, 24 pin Flex Ribbon and cable set with connectors included.

Compatible with the Sony FCB-H11, FCB-EH6300, FCB-EH6500, FCB-EH3410, FCB-EV-7500, FCB-EV-7100 and FCB-EV-5500 High Definition Block Cameras

Compatible with the Panasonic GP-MH322, GP-MH326 and GP-MH330. *Not compatible with the Panasonic GP-MH310

PLEASE NOTE: Sony FCB-EV7100 and Sony FCB-EV7500 will output 1080p60 HD Analog Component.


Compatible with the Sony FCB-H11, FCB-EH6300, FCB-EH6500, FCB-EH3410, FCB-EV-7500, FCB-EV-7100 and FCB-EV-5500 High Definition Block Cameras
Compatible with Panasonic GP-MH322, GP-MH326 and GP-MH330
Allows Communication with zoom block cameras
RS-232, 422 or 485 Protocols
Board and Wire Set with Connectors Included

ITEMS INCLUDED:
24 pin FFC
HD Component Interface Board
Wire harnesses with terminated connectors include:
- 9 pin D-sub for communication
- BNC for Video
- 2.1mm Power (actual power supply sold separately)