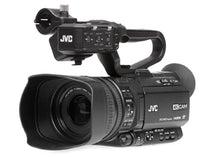 JVC GY-HM180U 4KCAM Compact Handheld Camcorder w/Integrated 12x Lens
The new GY-HM180 sets a new benchmark for professional compact cameras with improved recording features over its predecessor. With full professional controls and an integrated 12x zoom lens it delivers stunning 4K Ultra HD video recordings directly to economical SDHC/SDXC memory cards. And, should you need to go-live, it you can output 4K through its HDMI connector, or HD through the newly added 3G-SDI output.
Integrated 12x Ultra HD Lens, 1/2.3-inch CMOS Sensor
Ultra high quality imagery begins with a precision 12x F1.2-3.5 optical zoom lens (35mm equivalent: 29.5-354mm). JVC's 4K CMOS sensor with 12.4M pixels delivers high sensitivity and excellent performance over a wide range of lighting conditions. Details are crisp and accurate throughout the entire image plane. When shooting in the HD mode, Dynamic Zoom combines optical zoom and pixel mapping to create seamless and lossless 24x zoom. This allows the camera to have a long zoom range while retaining its small form factor. Shooters will also appreciate the convenient ND filter wheel: 0, 1/4th and 1/16th positions.
4K Ultra HD Recording at 150Mbps and Live Output
Working with 4K has never been easier! Insert an SDHC or SDXC (UHS-I Speed class3) memory card and record hours of 4K Ultra HD (3840 x 2160) material. Recordings are made using the Quicktime (.MOV) file format and are compatible with many popular editing systems. Connect a 4K Ultra HD monitor with a single HDMI cable, and view the camera's live 4K signal. You can also play back recorded files directly from the camera. The GY-HM180 also downconverts UHD signals to standard HD for output through the built-in HDMI connector, or through the 3G-SDI connector.
4:2:2 Full HD recording at 50Mbps
The GY-HM180 records 4:2:2 HD signals up to 60p at 50Mbps making it an ideal camera for general HD production work. 50Mbps files are stored in the Quicktime (.MOV) format for easy editing. Conventional AVCHD (4:2:0) recording is also possible, providing wide editing compatibility in an array of standard HD and SD formats.
Dual SDHC/SDXC Card Slots
Dual SDHC/SDXC card slots make the GY-HM180 a truly versatile camcorder, offering such benefits as simultaneous recording and relay recording. In relay recording mode, you can shoot continuously and seamlessly over multiple cards. When one card is full, the camcorder switches seamlessly and automatically to the other card. And because cards are hot swappable, there is in effect no limit to the continuous shooting time in any mode, even with lower capacity cards.
Web Friendly (Proxy) file formats
Lower resolution H.264 files (480x270p and 960x540p) may be recorded simultaneously with full HD files. These files are significantly smaller than HD files, and thus are very suitable for immediate posting to the web. A file recorded in the 960 x 540 mode is approximately 1/10th the size of a full HD file recorded at 35 Mbps, and therefore takes a fraction of the time to post. The smaller files may be quickly imported to an iPad for easy editing using iMovie or Pinnacle Studio. Transporting video to the web or back to the studio has never been faster.
FEATURES
Single 1/2.3-inch CMOS image sensor with 12.4 million pixels
High quality integrated 12x F1.2-3.5 zoom lens (35mm equivalent: 29.5-354mm)
Dynamic Zoom in HD mode combines optical zoom and pixel mapping to create seamless and lossless 24x zoom.
4K Ultra HD recording (150 Mbps, 24/30p) to SDXC(UHS-I Speed class3) card
4:2:2 Full HD recording at 50Mbps (24-60p)
120 fps recording for smooth slow motion (coming December 2015)
Live 4K UHD output via HDMI connector
3G-SDI output for HD signals
2 position ND filter (1/4, 1/16)
Built-in stereo microphone
Audio handle with 2 XLR connectors (as of 10/20/2015)
Dual SDHC/SDXC slots enable dual, backup and continuous recording
3.5-inch color LCD display (920K pixel) with smart focus assist function
0.24-inch color viewfinder (1.56M pixel) with smart focus assist function
Wired remote control supported
9 user button assignable functions
Includes BN-VF823 7.2V Battery, AC Adapter


GENERAL

Power

DC 12V (AC adaptor), DC 7.4V (battery)

Power consumption

Approx. 8.0W (with VF in 4K REC mode, default setting)

Weight

Approx. 1.1kg (including battery)

Dimensions

149 (W) x 191 (H) x 307 (D) mm

Operation temperature

0°C to 40°C

Storage temperature

-20°C to 50°C

Operating humidity

30% to 80%

Storage humidity

Under 85%

CAMERA

Image sensor

1/2.3-inch back-side illuminated CMOS, total 12.4M pixels

Synchronizing

Internal synchronization

Stabilizer

Optical image stabilizer

Shutter speed

1/6 — 1/10000

Lens

35mm equivalent: 29.6mm to 355mm

Filter diameter

62mm

Gain

0, 3, 6, 9, 12, 15, 18, 21, 24 dB, Lolux (30, 36 dB), AGC

ND filter

None, 1/4, 1/16

LCD display

3.5-inch 920 k pixels, 16:9

Viewfinder

0.24-inch 1.56 M pixel, 16:9

VIDEO/AUDIO RECORDING

Recording media

2x SDHC/SDXC memory card (4K (150Mbps): UHS-1 U3 4K (70Mbps), HD: 50Mbps Class 10, HD: 35Mbps Class 6, AVCHD/SD Class 4), High-Speed: UHS-1 U3

Video recording

Video codec: MPEG-4 AVC/H.264 (4K/HD/SD/Proxy), AVCHD (HD/SD)




File format: MOV (H.264), MTS (AVCHD)

Audio recording

LPCM 2ch, 48kHz/16-bit (4k/HD/SD MOV), AC3 2ch (AVCHD), μ-law 2ch (Proxy)

INTERFACES

Video output

AV output (3.5mm mini jack x 1), SDI output (BNC x 1), HDMI output x 1

Audio input

XLR x2 (MIC, +48V/LINE), 3.5mm mini jack x 1

Audio output

AV output (3.5mm mini jack x 1)

Headphone

3.5mm mini jack x 1

Remote

2.5mm mini jack x 1

USB

DEVICE x 1 (mass storage)

PROVIDED ACCESSORIES

Handle unit, AC adapter x 1