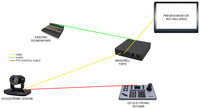 HD Live Streaming Video System - No Computer Needed - HDMI Version
Our Single Camera High Definition Live Streaming Video System is our most affordable and most simple solution offering live streaming and recording capabilities. The GOHD4K, coupled with the RCC6000 joystick ptz controller, is the best value high definition color pan/tilt/zoom video camera. The GOHD4K, with multiple video outputs (3G-SDI, HDMI, IP and USB), offers 20X optical zoom, excellent low light sensitivity, large pan and tilt angles and the ability to be mounted upside down. For reference, with 20x zoom, you can zoom in and capture a head to waist shot at 50 feet away and a head to toe shot at 100 feet away. Magewell's HD streaming encoder makes streaming to YouTube, Twitch or Facebook Live (or a custom RTMP) remarkably easy. The camera connects to the HDMI input on the encoder via an HDMI cable and audio from your existing sound board connects to the encoder via the 3.5mm analog audio input. Just connect the encoder to the internet via ethernet or wi-fi - no computer needed! And you can simultaneously record to your mobile phone or to a connected USB flash.


What can you do with our HDSTREAMSYSTEM Single Camera HD Live Streaming Video System?
Live stream to YouTube, Twitch, Facebook Live or a custom RTMP
Record to your mobile phone or to a connected USB flash

What do you need in addition to this system?
Ethernet or wi-fi connection to internet
Audio source (existing sound system, microphone, etc)
Video preview display (any display/monitor with an HDMI input will work)

BASE PACKAGE INCLUDES
One (1) GO ELECTRONIC GOHD4K high definition color pan/tilt/zoom video camera
One (1) RCC6000 remote control unit for the Go Electronic GOHD4K camera
One (1) 10 FT EVI CABLE for connecting the RCC6000 controller to the GOHD4K camera
One (1) MAGEWELL 53010 Ultra Stream HDMI Single Channel HD Streaming Encoder

ADD-ONS/OPTIONS

OPTIONAL MOUNT FOR CAMERA:
MT400-W - White Wall Mount for GOHD4K
MT400-B - Black Wall Mount for GOHD4K

EVI CABLE FOR CONNECTING CAMERA TO CONTROLLER
EVI CABLE available in the following lengths:
10 FT EVI CABLE
25 FT EVI CABLE
50 FT EVI CABLE
100 FT EVI CABLE
150 FT EVI CABLE
200 FT EVI CABLE

OPTIONAL HDMI CABLE:
HDMI cable available in various lengths
QUICK CONNECTION GUIDE for HD Live Streaming Video System - No Computer Needed - HDMI Version