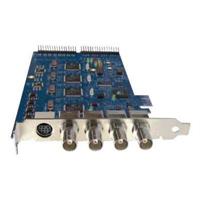 OSPREY 95-00472 Osprey 460e with SimulStream
OSPREY-460E plus SimulStream software.

OSPREY SIMULSTREAM

Get the most out of your stream with SimulStream!

Osprey® SimulStream® is a premium software upgrade that extends the capabilities of Osprey Video capture cards. SimulStream enables a single Osprey Video card to output multiple instances of audio and video data from a single input source to multiple applications.

Streaming and Scalability
Streaming media production today faces potential scalability concerns. Reaching the broadest audience of media consumers with an optimized experience requires increased production time, hardware requirements, and general bandwidth.

The Optimized Solution...SimulStream!
SimulStream is designed to provide the optimized experience of streamlined workflow.

The SimulStream Solution provides multiple formats to multiple audiences with minimal hardware and CPU impact.

Plus the scalability that allows for multiple formats and individual stream optimization.

Advantages:

Optimized streams for a diverse internet audience in realtime
Maximum efficiency without sacrificing quality
Complete utilization of latest processor speeds
Maximum solution density for streaming production
Reduced hardware costs

Upgrade to multi-stream production abilities today!

To enable SimulStream, you will first need to meet the following product requirements:

Osprey-210, Osprey-220, Osprey-230, Osprey-300, Osprey-440 and Osprey-500 family level hardware
Osprey driver 2.XX or higher
Run GetSimulStream enabling application (automatic download when you purchase Osprey SimulStream)
Windows® 2000 or Windows XP

SimulStream is the premiere software upgrade for Osprey streaming products!