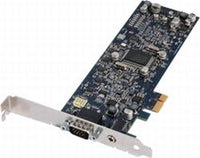 OSPREY 95-00473 Osprey 260e Low-Profile Single-Channel PCIe A/V Capture Card
Osprey video technology sets the industry standard for high-quality, rock-solid streaming performance. Utilized in a wide variety of applications — from aerospace to surveillance, Internet TV to webcasting — Osprey cards drive the delivery of video to viewers all around the globe. The Osprey 260e continues that strong tradition of high-value streaming performance.

Designed for the latest PC architectures.
PC manufacturers have adopted the PCI Express® (PCIe) bus as the standard for high-throughput internal bus architectures. Osprey cards optimize this architecture and unleash the power of modern multi-corePC engines with unfettered access to all PC resources. This means more power for your most demanding streaming applications.

Optimized for live streaming.
Take advantage of advanced video pre-processing features such as logo/bitmap overlay with transparency and positioning controls, de-interlacing, color space conversion and closed-caption extraction and rendering. The Osprey 260e automatically detects and adapts on-the-fly when the input video format changes from movie frame rates to television frame rates. We've also added a broadcaster-requested feature — loss of video detection — which automatically substitutes internally generated NTSC color bars (or other test display) with an optional customized text overlay.

Global standards support.
Like all Osprey cards, the Osprey 260e supports global analog standard-definition (SD) formats, including NTSC and PAL. If you are a global OEM integrator seeking a single-solution deployment strategy, this card's for you.

Multi-platform delivery.
multiple devices — in various formats, bit rates and resolutions — simultaneously, from a single video source.You can deliver multiple streams from a single channel in Adobe® Flash®, Microsoft® Windows (SilverlightTM), 3GPP or H.264 formats all at the same time. The Osprey 260e is the ideal solution to meet the demands of today's multi-platform digital media marketplace.

SPECIFICATIONS:

Driver Support:
Microsoft® DirectShow® API

One Channel Switchable Video Input:
Composite (BNC x 1)
Y/C (BNX x 2) (Includes BNC to mini-DIN adapter)
Components (BNC x 3)

Audio Inputs:
Balanced stereo (XLR x 2)
Unbalanced stereo (RCA x 2)

Audio Outputs:
Unbalanced stereo line (3.5 mm)

Video Format:
NTSC/PAL

PCIe (x 1) Connectivity:
Slots:; x 1, x 4, x 8, or x 16
PCIe 1.1

Pre-Processing:
Closed-caption extraction/rendering
Logo/bitmap overlay
Scaling, cropping, de-interlacing and inverse telecine
Loss of video automatic test pattern generation with text overlay option

Dimensions:
Half-height board
5.25" L x 2.71"H (13.34 cm L x 6.89 cm H)
Includes low-profile bracket

Hardware Warranty:
1 year limited hardware warranty

System Requirements:
Video capture requires intense bandwidth across the system bus, CPU, and memory. North Bridge PCIe slots are strongly recommended.
Multi-core processsors are recommended to run video applications.