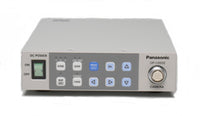 PANASONIC GP-US932CSX HD Camera Control Unit with SDI and HDMI Outputs
Now with 1080p output, Panasonic's 3CCD camera with true 16x9 multi format high definition delivers sharp, pure color images. This GP-US932CSX control unit replaces its predecessor the GP-US932CA. The camera is an ideal solution for microscopy, industrial endoscopy, aerial applications, specialty broadcast, underwater, special effects, and many other applications.

Features
1/3 type Full HD 3MOS sensors
1080/59.94p, 50p resolution at HDMI output
1000 TV lines (typical) of horizontal resolution
Multi-format:
(59.94Hz; GP-US932CSX)
1080/59.94p, 1080/59.94i, 1080/29.97p(sF), 720/59.94p, 480/59.94p, 480/59.94i
(50Hz; GP-US932CSXE)
1080/50p, 1080/50i, 1080/25p(sF), 720/50p, 576/50p, 576/50i

Various video outputs: HDMI, SDI x2, RGB/YPbPr, Video, S-video
Synchronization: Internal or External
Required illumination: 2000 lx at F12 (when BINNING:ON)
3 Scene files allow to register each of adjustable parameter settingsin accordance with an installation location or an intended purpose.
Dynamic range function improves high-contrast images that include light and dark areas.
Color matrix function allows independent hue and chroma adjustment in each of 12 axes.
Functions: Camera title, ELC, Electronic shutter, Gain adjustment,Electronic sensitivity enhancement, Binning, Red detail, Whitebalance, Black balance, Electronic zoom (up to 2.5x), Freeze, Flip,Mirror, Status display
HD camera cable can be selected from 4 m (13.1 ft.) / 6 m (19.7 ft.)/10 m (32.8 ft.).
Compact and lightweight camera head (GP-US932HX):
27 mm (W) x 30 mm (H) x 38.5 mm (D)(1-1/16 inches (W) x 1-5/32 inches (H) x 1-1/2 inches (D)),
Approx. 70 g (0.15 lbs