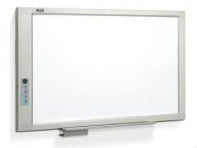 PLUS CR-5 Compact Full-Featured Electronic Color CopyBoard
The Plus Color CopyBoard CR-5 is half the size of the revolutionary M-11, and is packed with advanced features and functionality in a compact size! It has a new scanning system, increased slimness and a very stylish product design. The CR-5 will fit comfortably into many working spaces. It is especially suited to small meeting rooms, or an office where it can be within an arm's reach of a desk, or even in break areas where it can be used for casually sharing ideas. You can print your notes in color or save your work digitally either to a USB Memory Stick or directly to your pc. It has a USB Memory Stick port, and connects directly to PC via a USB cord. In addition to these key features, the CR-5 offers color laser printer compatibility, JPG and PNG files support, and the new integrated "PLUS TOOLBOX" software for even easier operation. The Plus Color CopyBoard CR-5 enhances communication effectively by writing ideas and instructions on the board and then sharing them through a printout or digital data; increasing productivity.


Color - Save digitally in color or print in color with an optional printer.
Wall or Cubicle Mount - The CR-5 comes standard with wall mounting equipment. A cubicle mount kit is optional.
Multiple Standing Positions - Use in standard horizontal position or flip chart style vertical format when using the optional floor stand. Also use with "high" or "low" position when used horizontally with the floor stand.
Dual Memory Function - Save your hand-written notes to a USB Memory stick or directly to your PC.
Stylish Design - Framed in brushed aluminum and with a modern looking minimal control panel, the contemporary design will compliment a variety of work spaces.
Light Weight - Weighs under 19 pounds. Less than one third the weight of an M-11S.
UPS Shippable - Can be shipped by most delivery services. The CR-5 falls into the "additional handling" category. Please use these dimensions when shipping: 51"L x 32"H x 7"W

Important CR-5 Electronic Copyboard Notes:

Please note that the electronic whiteboard does not include a USB memory stick.
Wall mounting equipment is included.
Cubicle mounting equipment is sold separately. (Available soon.)
Floor stand sold separately.
Any electronic whiteboard return must be pre-approved. If approved, the customer is responsible for a 25% re-stocking fee and all shipping charges.
Warranty: One year for parts, 90 days for labor.

SPECIFICATIONS:

Board Size WxHxD: 45" x 27" x 2.5" / 1143 mm x 688mm x 63mm
Panel Size WxH: 39.5" x 24" / 1000mm x 610mm
Readable Area WxH: 39" x 23.5" / 990mm x 600mm
Number of Panels: 2
Page Driving Method: Lateral Direction Screen Drive
Grid: 1.33 x 1.33", 34 x 34mm
Reading Method: CIS (Contact Image Sensor)
Print Method: HP PCL3e / Lexmark Z1320*
Print Paper: Letter-size(8.5"x11")/A4-size(210x297mm)Plain Paper
Print Colors: Color or Black & White
Print Density: 300 dpi
Print Interface: USB 1.1 or USB 2.0 full speed mode
Digital Output Color: Color or Black & White
Digital Output Memory Device: USB Flash Memory Stick
Digital Output File Format: JPG / PNG
PC Connection Interface: USB 1.1 or USB 2.0**
PC Connection Support OS: Microsoft Windows Vista (32bit), 2000 Professional (Service Pack 4 or later), XP Home/Professional Edition (Service Pack 2 or later)
PC Connection Software: TWAIN Driver, PLUS Image Viewer Ver.2, Set-up Utility
PC Connection File Format: JPG / PNG
Operating Humidity: 30-85% No-Condensing
Operating Temperature: 50-85° F, 10-35° C
Power Source: AC100V-240V, 50-60Hz
Weight: 18.75 lbs, 8.5 kg (not including marker tray and AC adapter)
Installation: Wall-Mount or Cubicle Mount or Floor Standing (Cubicle Mount Kit and Floor stand are optional)
Included Accessories: Power Cable, Markers (Black, Red, Green, Blue), Eraser, USB Cable, Wall Mounting Hooks and Screws, Operation Manual, CD ROM (TWAIN Driver, PLUS TOOLBOX Software, User's Manual (PDF))
Optional Accessories: Cubicle Mount Kit, Floor Stand, USB Memory Stick
Warranty: One Year for Parts, 90 Days for Labor