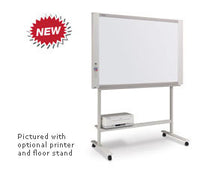 PLUS M-17S Electronic Standard Format CopyBoard
Building on the success of the BF Series, the new PLUS M-17 is thinner, lighter, loaded with advanced features and yet remains competitively priced. Its clean, stylish appearance will compliment a variety of business and office environments. Choose to print your notes in black and white or to save your work digitally (in black and white) either to a USB Memory Stick or directly to your pc.


2 Writing Panels.
USB Memory Stick port.
USB port for Direct PC Connectivity.
USB port for an on-board printer. (Printer sold separately.)
Up to 10 print-outs at a time from copyboard.
Inkjet Printer compatible. (See compatible printer list.)
Lightweight design for added portability and wall mounting or partition mounting.
Optional stand with casters allows for easy room-to-room transfer.

Store your work digitally.
With digital storage functionality, the PLUS M-17 expands organization-wide communication. The M-17 allows you to store and retrieve the data from the board through either a Direct PC Connection, or by using a USB Memory Stick. Images are saved as PDF files. Once the image data has been downloaded to your computer, you can utilize it in many useful ways:
Easily distribute exact copies of your work via email. Send it to absent audience members!
Using office applications, insert the writing on the board into business documents and other materials.
Further edit and enhance your work with image editing software.
Cut down on storage space and clutter with compact digital files.

Print your work to paper.
The M-17 allows you to print the contents of the board in black and white using compatible inkjet printers. You can utilize the printer in either the copyboard's wall-mounted or floor-standing configuration. Please note that the electronic whiteboard does not come with a printer. Compatible printers are widely available from retailers nationwide. (View compatible printer list) Advantages of plain paper copies:
Present your audience with an exact copy of what has been written on the board.
Listeners can commit their attention to the presentation; not to taking notes.
Maintain consistency by preventing errors or omissions in drawings, charts, and diagrams.
Conveniently store paper copies for future reference.

The M-17 uses a new LED light system for low power consumption. No lamp replacement is necessary.

Shown above with optional stand, the M-17S electronic whiteboard comes with wall mounting equipment included.

Slim Profile
The M-17 has been slimmed down from the previous BF Series model, going from 5 inches in depth to under 3 inches. The slimmer and lighter M-17 is more easily mounted on a wall and takes up less space in your meeting room or office.

Faster Scanning Time
PLUS has once again improved scanning time. The M-17S scans in a mere 15seconds, an improvement of 8 seconds over the previous model.

Smooth Hand-Scrolling
The surface of the M-17 is easy to move when using just your hand. The scrolling force needed has been reduced to 7 oz (0.2kg) — a vast improvement compared to the previous model's 3 lbs (1.4kg).

Easy-Access USB Port
The USB port is located on the front of the board for easy access when saving to a USB memory stick.

Built-in Software
No need to install software. Just connect your computer to the M-17 via a USB cable to save an image. Both PC and Mac compatible.

Eco-friendly, Low Power Consumption.
The M-17 was designed to be both environmentally friendly as well as economically friendly. Power consumption has been reduced to 12W/2W (M-17S) from the previous 120W/60W (BF).