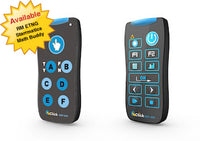 QOMO QRF300 QClick RF Based Audience Response System
FEATURES:
QRF300 works with any quiz format from oral quizzes to Exam View.
Easy one-click PowerPoint Slide Conversion.
Secure, unique Student ID's assigned to each response pad.
Export and import of class list in Excel format.
Individual and group participation modes.
Choose among many different activity modes including Freestyle, Normal Quiz, Standard Exam, Homework, Rush Quiz, Elimination, Vote/Inquiry, Ad-Lib Quiz, Hand-Raise, and Roll Call with multiple correct and answers.
Conduct timed quizzes and tests.
Instantly display results.
Wireless instructor remote and the ability to import XML exam files.
Generate queries based on class, individual or activity.
The response pads and instructor remotes are durable, lightweight and compact.
Automatically enter power save mode to maximize battery life.

SPECIFICATIONS:

Instructor Remote
Add convenience and style to your presentations with this all-in-one wireless presentation remote. Used by the instructor to control the course of activities, the instructor remote presents PowerPoint slides, and doubles as a laser pointer.
Dimension: 4 1/8" x 1 15/16" x 5/8".
LED Indicator for power status.
Power: 2 x AAA.

Response Pad
Each response pad has an ID number. The ID number can be set & reset by the instructor at any time. All responses are automatically collected within seconds
Durable, lightweight, and compact design.
Dimension: 4 1/8" x 1 15/16" x 5/8".
LED Indicator for power status.
Power: 2 x AAA.

USB Receiver
The RF receiver easily connects to your computer through USB.
The device driver is compatible with Windows only.