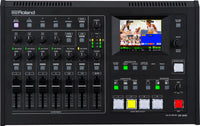 ROLAND VR-4HD HD AV Mixer
The VR-4HD is an all-in-one high definition audio/video mixer with built-in USB 3.0 for web streaming and recording. It integrates a digital audio mixer, video switcher, multi-viewer touch screen and USB video/audio streaming interface into a stand-alone device. As a complete HD studio in a compact and portable package, the unit replaces several different pieces of complex A/ V equipment. This portable live HD production solution is ideal for schools, churches, council meetings, corporate events, sports, training sessions, or any other live event.
Designed with single-person operation in mind, the VR-4HD enables easy switching and mixing of sound and video using advanced video and audio Digital Signal Processing (DSP) along with dedicated hardware controls faders, buttons and touch screen interface. The VR-4HD features professional quality broadcast controls and switches ensuring more accurate and faster operation than interfaces based on a computer style mouse and keyboard. The ability to simultaneously switch video with the push of a button and adjust audio with the push of a fader is invaluable and puts all essential features at the operator's fingertips. You also have the option to make video on the four channels switch automatically (channels carrying no video input will be skipped). You set the interval for the video to display within the range of 1 to 120 seconds. This is useful in applications where you simply need to capture different angles of an event with no specific timing or in applications where a volunteer is operating the equipment and there is not a need to switch between video channels manually. The built-in multi-view screen is also a touch screen interface for accessing set-up parameters, making it extremely easy to adjust picture-in-picture settings by dragging the inset window onto the screen.
FEATURES
All-in-one portable production solution
Easy to use with dedicated hardware controls and audio faders and integrated touch screen preview monitor
6 input, 4-Channel Video Switcher
Supports HDMI*, RGB/Component, and Composite Video Inputs Up to 1080p
Built-in Scaler via CH4
18-Channel Digital Audio Mixer with XLR, TRS, and RCA jacks along with audio from HDMI inputs
Embedding and de-embedding of audio with delay settings
Auto mixing and Echo Canceling function
Composition effects including DSK (Downstream Keyer), picture-in-picture etc.
Built-in touch quad-input multi-viewer with audio metering
External Multi-View Output through HDMI
HDCP Support
USB3.0 Video/Audio Output up to 1080/30p (uncompressed) and Audio Loopback Feature
Software control using VR-4HD RCS application for Mac and PC and remote control via USB connection
Tally, GPIO connections
* HDCP Compliant

VIDEO
The VR-4HD has three dedicated HDMI input connectors compatible with a variety of equipment and support 1080p/1080i/720p video resolution. The fourth input includes a scaler to support both video and computer resolutions and also supports analog RGB and component input so older devices can be used as sources without the need for external conversion equipment.
Both progressive and interlace signals can be input allowing for both 1080i and 1080p signals to be used at the same time. Video signals input from a PC are accurately displayed thanks to progressive signal processing. HDCP is supported for input of copy protected content from devices such as Blu-ray disc players.
Using the HDMI and/or RGB/COMPONENT outputs, you can send the main output video to devices such as projectors, external displays and recording equipment. Output video from the HDMI OUT and RGB/COMPONENT output connectors all have the same video format; selecting individual video formats for these is not possible. The preview HDMI output (PVW OUT), outputs either the input video as a four-way split screen (INPUT mode) or the main output video (OUTPUT mode) to any monitor with an HDMI input.
Copy-right protected (HDCP) video can be input from a blu-ray disc player or the like to the VR-4HD as long as an HDCP-compatible device (e.g., HDCP compatible display) is connected to the HDMI or PVW output of the VR-4HD. When "HDCP" is set to "ON" on the VR-4HD, no video can be output via the RGB/COMPONENT connector and USB 3.0 port, only from the HDMI OUT and PVW OUT connectors.

COMPOSITING EFFECTS
The VR-4HD includes DSK (Downstream Keying), Picture-in-Picture (PinP), Split and Quad composting effects ideal for creating news style broadcasts and corporate presentation content.
The DSK function is great for overlaying titles, song lyrics or logos onto incoming video sources that can be switched in the background while text or images remain displayed.The DSK supports both Luminance Keying (Black / White) and Chroma Keying (Blue / Green) for compositing two videos in one screen using Picture-in-Picture, or for using the split function. The PIP function is ideal for seminars and presentations where you want to show supporting content on the main screen but still show a shot of the speaker/presenter. The inset screen in the PIP format can be customized such as changing its size, adding borders or changing its location. The split screen function is perfect for a one-on-one interview or two-person debate.

AUDIO
The VR-4HD features digital signal processing and advanced features including auto-mixing, echo cancel and delay for perfect lip-sync between audio and video. The VR-4HD's audio mixer can mix the four XLR microphone inputs, stereo RCA and 1/8 mini connector along with the audio embedded in the four HDMI inputs. The final mix can be output via XLR, RCA and also embedded into the HDMI output and USB 3.0 output. The VR-4HD has two built-in audio buses (a MAIN bus and an AUX bus). You can select the audio bus to output for each individual connector. For example, you can use this at a live performance venue to output a mix of all input audio (MAIN bus), and when recording or streaming a broadcast, you can use this to output just certain specific input-audio streams (AUX bus).
A unique loop-back audio capability is included with the USB 3.0 port that can bring in audio from a connected PC using a conferencing software, such as Skype, and return audio to the PC without any howling or echo thanks to the included echo cancellation feature. This makes the VR-4HD an ideal web conferencing tool that allows for multiple video and audio sources to be used with any free online web conference software. In web conferencing calls using conferencing system speakers and microphones, echo occurs when the microphone picks up and returns the voice of the other party coming from the speaker. Using the Echo Cancel feature makes it possible to eliminate the echo component from audio picked up by the microphone connected to the VR-4HD and send only your own voice to the other party. The Echo Cancel feature accommodates rooms of approximately 20 square meters.
The included Auto-Mixing function automatically controls fader operations that normally are performed by an operator. The function makes mixing multiple speakers simple and easy by automatically managing the levels of the microphones across the multiple people speaking and can even give priority for volume. For example, volume priority can be assigned to an event moderator who can always be heard above the other participants. This is especially useful for meetings, discussions, debates, and other situations where multiple microphones are used.
Additionally the pan, or left-right position of audio, can be adjusted on the VR-4HD. The sound position of audio sources connected to input jacks 1-4 on the side panel can be moved farther to the left or right. This feature lets you broaden the sound and can be particularly effective when transmitting feed of a performance using two microphones.

USB 3.0 FOR RECORDING AND STREAMING
Recording or webcasting from the VR-4HD is easy. Simply connect to a PC or Mac using the built-in USB 3.0 connection. Up to full 1080p compressed resolution can be output from the VR-4HD. The VR-4HD embeds the audio mix with the video program and delivers at the selected resolution. It is recommended to connect the VR-4HD directly to the computer since the use of an USB extension cable or USB hub might result in the computer failing to recognize the VR-4HD.
The free VR Video Capture application for Mac and PC provides and easy and effective way to capture uncompressed video with high resolution audio. The VR Video Capture application can also capture compressed video for easy and immediate delivery of content to online video sites or internal corporate servers.

REMOTE CONTROL
The VR-4HD RCS software is designed to control the VR-4HD using a computer. By connecting the VR-4HD to your computer via USB, you will be able to copy settings (backup) or update the system software of the VR-4HD in addition to remote controlling the unit from your computer. The VR-4HD can be operated remotely from a computer, touch panel, or other external control device through RS-232C. The VR-4HD is equipped with a D-sub 9-pin TALLY/GPIO connector. In addition to tally input/output functions, this provides functionality for control signal input and output, and you can use it to transmit and receive.

APPLICATIONS
Videography and Webcast
Education
Event and Meeting
Video Conference

SPECIFICATIONS


Video

Processing

4:2:2 (Y/Pb/Pr), 8-bit

Input Connectors

INPUT 1-3: HDMI Type A (19 pins) x 3
* HDCP Supported

INPUT 4: HDMI Type A (19 pins) x 1
* HDCP Supported
RGB/COMPONENT (Mini D-sub 15-pin type) x 1
COMPOSITE (RCA phono type) x 1
* INPUT 4: HDMI , RGB/COMPONENT or COMPOSITE selected.

Output Connectors

MAIN OUT: HDMI Type A (19 pins) x 1
* HDCP Supported
RGB/COMPONENT (Mini D-sub 15-pin type) x 1

PREVIEW OUT: HDMI Type A (19 pins) x 1
* HDCP Supported

USB3.0: USB B type x 1

Input formats

HDMI INPUT 1-3: 720/59.94p, 720/50p (SYSTEM FORMAT: 720p)
1080/59.94i, 1080/50i, 1080/59.94p, 1080/50p (SYSTEM FORMAT: 1080i, 1080p)

INPUT 4: HDMI, RGB/COMPONENT:
480/59.94i, 576/50i, 480/59.94p, 576/50p
720/59.94p, 720/50p, 1080/59.94i, 1080/50i
1080/59.94p, 1080/50p
VGA (640 x 480/60 Hz), SVGA (800 x 600/60 Hz), XGA (1024 x 768/60 Hz)
WXGA (1280 x 768/60 Hz), SXGA (1280 x 1024/60 Hz)
FWXGA (1366 x 768/60 Hz), SXGA+ (1400 x 1050/60 Hz)
UXGA (1600 x 1200/60 Hz) , WUXGA (1920 x 1200/60 Hz)

COMPOSITE: 480/59.94i, 576/50i
* The refresh rate is the maximum value of each resolution.
* Conforms to VESA DMT Version 1.0 Revision 11.
* 1920 x 1200/60 Hz: Reduced blanking
* The input interlaced video signal is converted to progressive video signal by internal processing.
* The video signal frame rate can be selected at the SYSTEM menu (59.94 Hz or 50 Hz).

Output formats

MAIN OUT (HDMI, RGB/COMPONENT): 480/59.94i, 576/50i, 480/59.94p, 576/50p
720/59.94p, 720/50p, 1080/59.94i, 1080/50i
1080/59.94p, 1080/50p
VGA (640 x 480/60 Hz), SVGA (800 x 600/60 Hz), XGA (1024 x 768/60 Hz)
WXGA (1280 x 768/60 Hz), SXGA (1280 x 1024/60 Hz)
FWXGA (1366 x 768/60 Hz), SXGA+ (1400 x 1050/60 Hz)
UXGA (1600 x 1200/60 Hz) , WUXGA (1920 x 1200/60 Hz)

PREVIEW OUT: 720/59.94p, 720/50p (SYSTEM FORMAT: 720p)
1080/59.94i, 1080/50i (SYSTEM FORMAT: 1080i)
1080/59.94p, 1080/50p (SYSTEM FORMAT: 1080p)

USB3.0: 720/29.97p, 720/25p (SYSTEM FORMAT: 720p)
1080/29.97p, 1080/25p (SYSTEM FORMAT: 1080i, 1080p)
* The MAIN OUTPUT format of HDMI and RGB/COMPONENT is always the same.
When an interlaced format is selected, component signal is output from the RGB/COMPONENT connector.
When a non-interlaced format is selected, RGB signal is output from the RGB/COMPONENT connector.
* The video signal frame rate can be selected at the SYSTEM menu (59.94 Hz or 50 Hz).

Video Effects

Transition: CUT, MIX (DISSOLVE/FAM/NAM/MOSAIC), WIPE (30 types)
Effects: NEGATIVE, EMBOSS, COLORIZE, COLORPASS, POSTERIZE, SILHOUETTE, MONOCOLOR, FINDEDGE (8 types)
Composition: PinP, SPLIT, QUAD, KEY (Luminance Key, Chroma Key)

Audio

Audio Processing

Sampling rate: 24 bits/48 kHz

Audio formats

HDMI: Linear PCM, 24 bits/48 kHz, 2 ch
USB: Linear PCM, 16 bits/48 kHz, 2 ch

Input Connectors

AUDIO IN 1-4 (XLR/TRS combo type, phantom power)
AUDIO IN 5-6 (RCA phono type)
AUDIO IN 7/8 (Stereo miniature type)
USB B type (stereo)

Phantom Power

DC 48 V (unloaded maximum), 10 mA (maximum load)
* Current value per channel

Output Connectors

AUDIO OUT: L, R (XLR type)
L, R (RCA phono type)

AUX OUT: L, R (RCA phono type)

USB: USB B type (stereo)

PHONES: Stereo miniature type

Signal Level and Impedance

XLR/TRS combo type
Input Signal Level : -60--+4 dBu (Maximum: +22 dBu)
Input Impedance : 10 k ohms (GAIN 0--23 dB), 5 k ohms (GAIN 24--64 dB)
RCA phono type
Input Signal Level : -10 dBu (Maximum: +8 dBu)
Input Impedance : 15 k ohms
Output Signal Level : -10 dBu (Maximum: +8 dBu)
Output Impedance : 1 k ohm
XLR type
Output Signal Level : +4 dBu (Maximum: +22 dBu)
Output Impedance : 600 ohms
Miniature type
Input Signal Level : -15 dBu (Maximum: +3 dBu)
Input Impedance : 15 k ohms
Headphones
Output Signal Level : 75 mW + 75 mW
Output Impedance : 32 ohms

Audio Effects

Auto Mixing, Echo Cancel, EQ, Delay, Compressor, HPF, Gate, Reverb, Multi-Band Compressor, Limiter

Others

Other Connectors

RS-232:
D-sub 9-pin type
Tally/GPIO:
Mini D-sub 15-pin type
USB 3.0/2.0 (device):
USB B type, USB-VIDEO (Super-Speed), USB-AUDIO 2 IN/2 OUT (Full-Speed), remote control from PC

Display

Graphic Color LCD, 320 x 240 dots, touch panel

Other Functions

MEMORY (8 types)
FREEZE (input video captured)
OUTPUT FADE (Audio, Video: WHITE or BLACK)

Power Supply

AC Adaptor

Current Draw

3 A

Power Consumption

36 W

Operation Temperature

+0 to +40 degrees Celsius
+32 to +104 degrees Fahrenheit

Dimensions

339 (W) x 217 (D) x 87 (H) mm
13-3/8 (W) x 8-9/16 (D) x 3-7/16 (H) inches

Weight (excluding AC adaptor)

2.4 kg
5 lbs 5 oz

Accessories

Owner's manual
AC adaptor
Power cord

Notes

* 0 dBu=0.775 Vrms