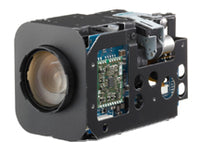 SONY FCB-EX490D 18x Wide D Version Block Camera
High Resolution and Wide Dynamic Range Combined in a Small, Block Color Camera! Sony is enhancing its line-up of block cameras with the introduction of its new "D version" wide dynamic block cameras. The FCB-EX490D high resolution camera incorporates a ½-type EXview HAD CCD with Advanced Digital Signal Processing to reproduce clear, detailed images at an extremely high horizontal resolution of 530 TV lines. The FCB-EX490D features an 18x optical zoom lens. Feature-rich and coupled with clear and detailed images, the FCB-EX series of color block cameras are ideally suited for monitoring applications that demand high performance.

FCB-EX490D HIGHLIGHTS:

1/4-type EXview HAD CCD
High Horizontal Resolution of 530 TV Lines
216x Zoom Ratio (18x Optical, 12x Digital)
Wide Dynamic Range
Advanced Spherical Privacy Zone Masking
Video Motion Detection
Minimum Illumination - 0.7 lx (typical)
E-Flip Function
Multi-Line On-screen Display
Auto ICR (IR Cut Filter Removal) Mode
Picture Freeze Function
Key Switch Connector (CN601) for Camera Control with External Equipment
Electronic Shutter/Slow Shutter
High-Speed Serial Interface (maximum 38.4 Kb/s) with TTL Signal-Level Control - VISCA protocol
Internal/External Sync

FCB-EX490D FEATURES:

Powerful and Versatile Zoom Capability/Wide VIewing Angle
The FCB-EX490D camera incorporates an 18x optical zoom lens.
High-Resolution Images
Combining a newly developed DSP with a 1/4-type EXview HAD CCD, the FCB-EX490D camera achieves a high horizontal resolution of 530 TV lines and outputs amazingly clear, and detailed images.
Wide Dynamic Range
This new FCB-EX490D camera incorporates an advanced backlight compensation technology that improves the camera's dynamic range by 128 times compared to previous FCB C series cameras, resulting in clear image reproduction. This camera captures the same image twice - first with a normal shutter speed and then with a high shutter speed. The dark areas captured a normal shutter speed, and the bright areas captured at high shutter speed are then combined into one image using an advanced DSP, clearly reproducing the original scene. Wide Dynamic Range is ideal for lobby camera applications where the camera is exposing both people indoors and outdoor parking lot areas within the same picture.
Video Motion Detection
Within a screen divided into 12 horizontal and 8 vertical blocks, the FCB-EX490D camera can detect a change in luminance within designated areas (up to 4 areas) and specifies its position.
The video motion detection function is useful for unattended monitoring/recording found in security applications. The camera is viewing a fixed position and is able to record when an intruder is detected. An alarm signal is output via the camera's control interface using the VISCA protocol.
Slow AE Response Function
The new FCB-EX490D camera is equipped with a slow AE response function to automatically slow the rate at which camera exposure levels change. The rate can be set up to 32 times slower than when Full-Auto AE or Priority (shutter/iris) modes are selected. This function is useful when monitoring areas in which lighting conditions change abruptly. For example, if the camera is used to monitor the flow of nighttime traffic when vehicle headlights are pointed directly towards it, the camera's exposure level is reduced slowly. This can allow users to monitor and identify crucial parts of the image that surround the headlights, such as the car's license plate or the driver's face.
Advanced Spherical Privacy Zone Masking with Mosaic Effect
In addition to conventional color masking, unwanted or prohibited areas within an image can be masked using a mosaic effect. A maximum of eight masking areas can be displayed on the monitoring screen. Also, when this block camera is used with a Pan/Tilt/Zoom (PTZ) camera system, masked areas are interlocked with PTZ movements, regardless of the camera angle or even if it is circling. Up to 24 masking areas can be preset in the entire viewing range of the PTZ camera.
SMART (Sony Modular Automatic Lens Reset Technology) Lens Control
The new FCB-EX490D camera incorporates SMART Lens Control technology that monitors the focus position of the lens during zooming and automatically compensates for any mechanical misalignment that may occur over long periods of continuous usage. With the introduction of SMART Lens Control, periodic lens initialization is no longer required during continuous 24-hour operation.
Multi-Line On-Screen Display
Up to eleven lines with 20 characters per line can be displayed on the monitoring screen using VISCA commands. Users can freely display captions on the screen such as monitoring location, camera name, alarm messages, and providing operators with a user-friendly interface.
Picture Freeze
The FCB-EX490D camera is equipped with a Picture Freeze function that allows for the output of a still image while the camera is panning, tilting, zooming, focusing, initializing the lens, or performing preset operations. For example, the camera will out a still image before it begins to pan, tilt, or zoom. Once the operation is completed, the camera continues to display images so that unnecessary images are not displayed.
Auto IR-Cut FIlter Removal (ICR)
The FCB-EX490D incorporates an Auto ICR function for optimized sensitivity in both day and night-shooting applications. At a set level of darkness, the IR-cut filter is automatically disabled (ICR ON) and the infrared sensitivity is increased. At a set level of brightness, the filter is automatically enabled (ICR OFF). The IR-cut filter automatically engages depending on the ambient light, allowing the capture of images in a variety of lighting conditions.

FCB-EX490D SPECIFICATIONS:

Image Sensor: 1/4-type EXview HAD CCD
Effective Picture Elements: Approximately 380,000 Pixels (NTSC), 440,000 Pixels (PAL)
Horizontal Resolution: On/Off (On: 530 TV Lines)
Lens: 18x optical zoom, f=4.1 mm (wide) to 73.8 mm (tele), F1.4 - F3.0
Digital Zoom: 12x (216x with optical zoom)
Viewing Angle (H): 48.0° (wide) to 2.8° (tele)
Minimum object distance: 290 mm (wide) to 800 mm (tele)
Minimum illumination: 1/60s mode: 0.7 lx (typical) (F1.4, 50 IRE), 1/4s mode: 0.07 lx (typical) (F1.4, 50 IRE)
Sync system: Internal/External (V-Lock)
S/N ratio: More than 50 dB (weight ON)
Electronic shutter: 1/1 to 1/10,000 s, 22 steps
White balance: Auto, ATW, Indoor, Outdoor, One-push, Manual
Gain: Auto / Manual (-3 to 28 dB, 2 steps)
AE control: Auto, Manual, Priority mode (shutter priority & iris priority), Bright, EV compensation, Backlight compensation, Slow AE
Wide Dynamic Range: On/Off
Backlight Compensation: On / Off
Privacy Zone Masking: On/Off (8 masks per view/24 masks presets in the entire viewing range when integrated into a PTZ camera - 14 colors, mosaic)
Character Generator: Mode display/Multi-line OSD (OSD has priority over Mode display)
Flicker Cancel: Auto
Focusing System: Auto (Sensitivity: normal, low), One-push AF, Manual, Infinity, Interval AF, Zoom Trigger AF
Picture Effects: e:Flip, Nega Art, Black & White, Mirror Image
Zoom Switch: TELE, WIDE
Video Output: VBS: 1.0 Vp-p (sync negative), Y/C
Camera control interface: VISCA (TTL signal level), baud rate: 9.6 Kb/s, 19.2 Kb/s, 38.4 Kb/s, stop bit: 1 or 2 stop-bit selectable
Storage Temperature: -4 to 140 °F (-20 to 60 °C )
Operating Temperature: 32 to 12245 °F (0 to 50 °C )
Power Requirements: 6 to 12 V DC
Power Consumption: 2.6W (motors inactive), 4.4W (motors active)
Weight: 8.1 oz (230 g)
Dimensions: 52 x 57.5 x 88.5 mm, 2-1/8 x 2-3/8 x 3-1/2 inches